Partnership Working
CityCo and Manchester BID facilitate free counter-terrorism awareness training in partnership with Greater Manchester Police and North West Counter Terrorism Unit. CityCo works closely with Counter Terrorism Security Advisers (CTSAs) to provide help, advice and guidance on all aspects of counter terrorism protective security to specified industry sectors.
Invaluable for both management and operations-level staff, ACT (Action Counters Terrorism) training is an accredited course produced by NaCTSO (National Counter Terrorism Security Office). The training guides on the current level of threat, how to prepare and recognise suspicious activity and how to respond.
If you are a CityCo or Manchester BID Member, and have have any concerns you would like to raise with CityCo's Operations team direct, especially if urgent, please call 07917 058 412.
ACT Awareness Online
Action Counters Terrorism training designed to provide employees with the knowledge and confidence required to deal with potential terrorism situations. It explains how to spot the signs of suspicious behaviour and what to do to help yourself, others and the emergency responders if an attack should take place.
Version 2 of the online course is now available; collaboration between police, Marks & Spencer and Highfield learning.
Sign up at: ct.highfieldlearning.com
Companies can register on behalf of all employees and share login details with staff.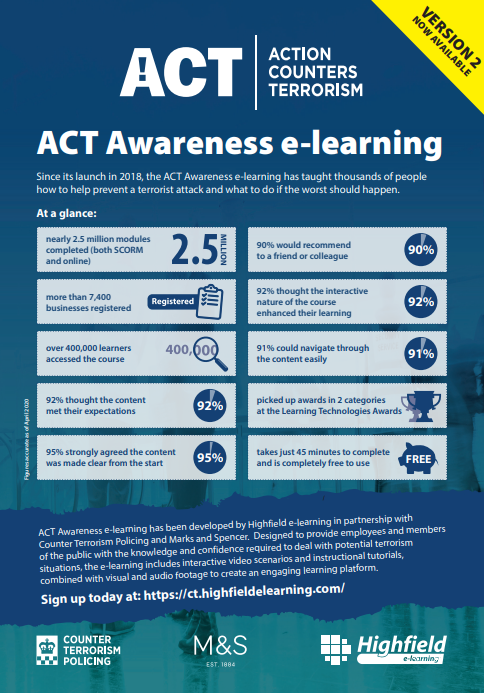 ACT Operational
This package is a facilitated, interactive workshop aimed at operational supervisors and their staff. The main objective is to raise awareness of the ongoing threat from terrorism and improve the security culture within an organisation. Participation will increase your staff's confidence in how best to respond to a situation or incident. Email operations@cityco.com
ACT Strategic
This package is a facilitated, interactive workshop aimed at the policy writers and strategic decision makers within an organisation. The main objective is to help delegates prepare strategies to manage and then recover from a terrorist attack. The workshop develops understanding of issues and highlights best practice from all sectors. Email operations@cityco.com
ACT Revise
This package is a presentation aimed at those who legitimately and routinely use hazardous materials, in particular the academic community. Revise is a multi-media package which highlights the potential misuse of hazardous materials and develops understanding of how to protect against it. Email operations@cityco.com
ACT App
The app offers:
Practical advice and guidance to help protect your business, plus information on how to respond in the event of an attack
Information on CT Policing's suite of ACT training products, plus access to the online e-Learning package
Suite of NaCTSO guidance videos
Latest reference documents and publications
ACT online reporting form and confidential hotline
Emergency response and post-incident guidance
Live-time news updates from UK Protect
Download the Urim app in Google Play or App Store. Then email ct@highfieldelearning.com to request a user name and password.
Please note access is for business/professional use only.
SCaN: See, Check and Notify
Organisations that specifically wish to focus on hostile reconnaissance should opt for See Check and Notify (SCaN) workshops.
SCaN recognises that people are a company's best advantage in helping prevent and tackle a range of threats including terrorism, criminal activity and unlawful protest. SCaN is designed to help businesses maximise safety and security, using their existing resources, so delegates learn how to spot suspicious activity, how to deter it and what to do when they encounter it. Email operations@cityco.com
CityCo Table Top Exercises
CityCo can also offer members practical 'Tabletop' scenarios around business continuity challenges and resilience planning. Email operations@cityco.com
Useful Links