Chinese New Year in Manchester
Date & Time

Venue

Chinatown, Albert Square and across the city centre
Manchester's Business Improvement District (BID) works with FCAM, Manchester City Council, Marketing Manchester, Transport for Greater Manchester, retailers and cultural venues to celebrate Chinese New Year.
Manchester events showcase a mix of traditional celebrations across Chinatown alongside contemporary art, performances, food and family activities across the shopping district.
Manchester BID Activity
We have so far delivered five consecutive events and marketing+PR campaigns for the Year of the Pig (2019), Dog (2018), Rooster (2017), Monkey (2016), Ram (2015) and Horse (2014).
We will celebrate the Year of the Rat in 2020. Our beautiful annual artwork, based on the Chinese Zodiac, is created by international artist and proud Mancunian Stanley Chow.
2020 Celebrations
Friday 24 – Sunday 26 January
Sunday 26 January Chinatown Dragon Parade
2019 Campaign Headlines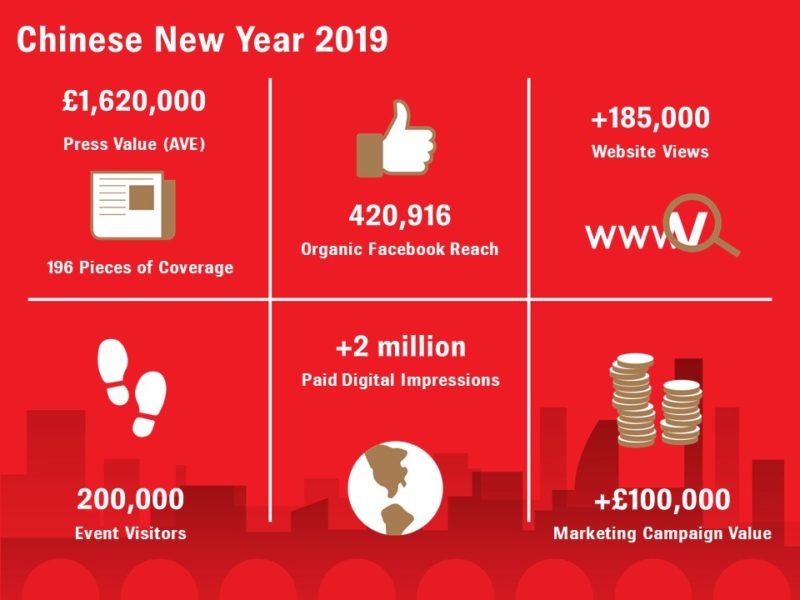 2019 Footfall
80,000 people in the city centre, +5% against the equivalent parade event Sunday 2018
Manchester Arndale Saturday footfall: +6.5% v LY
Manchester Arndale Sunday footfall: +20.8% v LY
2019 PR Coverage
Sponsors & Partners
Brought to you by Manchester Business Improvement District, Federation of Chinese Associations of Manchester and Manchester City Council
In partnership with Marketing Manchester, TfGM, Metrolink, Manchester Confucius Institute and I Love MCR
Chinatown sponsors Federation of Chinese Associations of Manchester, NCP, Manchester Airport, Hainan Airlines, Arts Council, Silver Hill Farm, Ernest Jones, Bank of China and  Genting Club