Deansgate Road Closure: Business Consultation
Date & Time

Venue

Zoom
CityCo and Manchester BID are in daily liaison with public authorities including Manchester City Council, Transport for Greater Manchester and Marketing Manchester, city partners and our wide network of Manchester city centre businesses.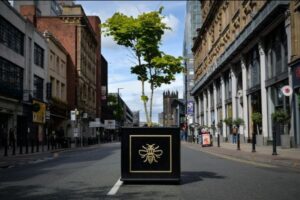 You may have read that the current Deansgate temporary road closure will reopen to buses following a legal challenge.
Proposals are still in train however for the permanent road closure, and a formal consultation around this is starting imminently. However, before this starts, we wanted to follow-up our last business consultation to discuss the plans with neighbouring businesses. The aim remains to create a family and age-friendly space, and bring activities to attract footfall and trade to the area.
INVITE: Traffic-free Deansgate Business Consultation
2pm, Thursday 10 December
Zoom Q&A with Manchester City Council
The meeting will be chaired by CityCo Partnership Director Alex King.