Shaping the City Centre
As a member of Manchester's Business Improvement District (Manchester BID) you are part of the Manchester picture. By working together, with other business sectors and public agencies, you are supporting the growth of our city.
£1 billion being invested into Manchester Airport, increasing capacity to £55 million passengers a year
£3 billion worth of transformational property projects in the pipeline in central Manchester
St John's Neighbourhood under construction with £110 million being invested into new arts centre The Factory
The skyline changing along Oxford Road with Circle Square developing on the former BBC site
Groundworks underway at Kampus, RHS Bridgewater Salford and UandI's Mayfield Park
14,000 residential units under construction across 48 developments
£23 million worth of new Bee Network cycling facilities announced for Mancunian Way, Rochdale Canal and from Piccadilly to Victoria
£350 million Metrolink line well on the way for Trafford, with 6 new stops including The Trafford Centre
£13 million worth of development underway at Manchester Museum
4,500 new hotel beds under construction, including new national brands Dakota and Native
Exciting new developments continue at Manchester Arndale as we welcome international brand Uniqlo.
Manchester BID works annually with key partners across Manchester including Manchester City Council, Transport for Greater Manchester and Greater Manchester Police. We thank everyone for their continued support.
Better Business
The BID team prides ourselves on helping BID levy payers do better business and get value from the partnership. Whether it is via sharing critical information, environmental, street or security assistance, our street events or promotional opportunities, we are here to help the city centre work for you.
Operational Support
City Hosts
City Forums and Lobbying
Business Crime Reduction
Business Briefings and Training
City Intelligence
Corporate Events
Public Events
You're in Good Company
As a member of the Manchester BID you're in good company. You are part of a network of 400 city centre retailers and food and drink businesses.
The BID managed by CityCo, the City Centre Management Company for Manchester and Salford, and as such, the BID is also part of a much wider city community including head offices, property firms, culture and leisure venues, professional services, hotels, education and transport organisations.
BID Committees
Manchester BID runs forums that bring businesses together: the BID Board and working groups (Events & Marketing, Operations, Large Stores, F&B, Jewellery, Financial Services).
On the BID's behalf, CityCo also runs forums that represent the interests of the retail community including Business Crime Reduction Intelligence Briefings and a Cleansing Committee.
BID interests are also represented at city forums that include the City Centre Ward Coordination Meeting, City Centre Licensing Multi-Agency Meeting, Manchester Integrated Neighbourhood Meeting, Manchester Homelessness Partnership Board, North West Crime Regional Crime Meeting and Transport for Greater Manchester Traffic and Transport Group.
2018 In Focus
The BID's priorities were to launch the second term of the Business Improvement District (2018-23 Business Plan), continue to support levy payers and continue to promote the city centre as a vibrant, thriving destination through our various media partnerships.
Second BID Term Launch
£6 million will now be invested in the heart of Manchester over the next 5 years
Following the successful renewal of the BID, from last April the team has supported the launch of the second term. The 2018-23 Business Plan continues to:
Develop and market public events and festivals that attract footfall to the central retail shopping area
Increase environmental standards through operational services
Increase the profile of the city through promotional partnerships
Ensure there is a lobbying voice for retail with the public sector.
BID Event Highlights
We had a monster Manchester takeover of the city's buildings with our giant inflatables, welcomed thousands of students on the shopping spree of their lives, created a street paradise of florals for the Manchester Flower Show and worked with Bee in the City to create the biggest summer buzz.
BID events are staged with members in mind and there are many opportunities to benefit from the millions of pounds worth of national PR.
To bring these events to life we have continued to work with a host of city media and content partners including Manchester City Council, TfGM, Metrolink, Marketing Manchester, FCAM, I Love Manchester, Capital FM, Heart FM and CBeebies.
Full 2018/19 Programme
The King Street Festival
MCR Student Socials x 2 (Spring and Autumn)
Bee in the City
Mystery Shopping Awards
Halloween in the City
Chinese New Year 2018
Chinese New Year


February. The BID team has worked in partnership with Manchester City Council, Marketing Manchester, TfGM and the Federation of Chinese Associations of Manchester (FCAM) to celebrate Chinese New Year for the last six years.
In 2019, we followed the Year of the Horse, Ram, Monkey, Rooster and Dog with a campaign for the Year of the Pig, designed by international illustrator Stan Chow.
The BID's incredible giant art installation 'Piglet' by artist Alex Rinsler took-up residence in St Ann's Square alongside four days of food, fireworks and fun from Albert Square to Manchester Arndale.
Halloween In The City


October. Halloween has been celebrated by the BID for three years now in partnership with Marketing Manchester, Manchester City Council and Manchester Arndale and the 2018 event took the festival to monster proportions. The event is now a city-wide takeover with family events on the streets, in the shops and at leisure and cultural venues.
We marked the arrival of Halloween with green-lit buildings and a trail of super-sized creatures on the rooftops of Mayfield, Arndale, House of Fraser, 35 Dale Street, Piccadilly Place, Manchester Hall, Debenhams, M&S and Afflecks.
The BID also hosted a Trick or Treat Trail, giant skeleton parade and children's storytelling with CBeebies.
Footfall up +15 2018 vs 2017 in the BID area.
Visit Manchester Partnership

Manchester BID has an annual partnership in place with the destination tourist board Visit Manchester.
This continues to result in extended reach for the BID's marketing campaigns to promote our own events (King Street Festival, Halloween and Chinese New Year) and ensures the inclusion of retail and restaurant content in national and international promotional activity targeted at key markets such as weekend mini-breakers from London and Chinese and Arab visitors who like to shop and enjoy all the Manchester has to offer.
2018/19 Partnership Headlines
2018 King Street Festival
Visit Manchester digital support campaign
WEB VIEWS: 43,214
SOCIAL MEDIA: 57,500 Reach – Facebook and Twitter
GOOGLE PAID ADS: 32,943 Impressions
2018 Halloween in the City
Visit Manchester digital support campaign
WEB VIEWS: 171,000
SOCIAL MEDIA: 1,835,899 Reach – Facebook, Twitter & Instagram
GOOGLE PAID ADS: 202,480 Impressions
2019 Chinese New Year
Visit Manchester digital support campaign
WEB VIEWS: 185,000
SOCIAL MEDIA: 1,951,321 Reach – Facebook, Twitter & Instagram
GOOGLE PAID ADS: 196,567 Impressions
ReDiscover Campaign
Targeted to GCC (Gulf ) Audiences – Digital and In-Market Campaign in partnership with Visit Britain
Retail Content Development
visitmanchester.com
Operational Support

Over the past 12 months we have reported on and resolved a whole range of neighbourhood issues.
From tackling street and environmental concerns outside premises to advising around the impact of transport works, training on counter-terrorism protocols, evacuation planning, trespassing, commercial waste and cleansing.
BID Area Deep-Clean

Following consultation with the BID Board, we coordinated an extra specialist clean of high footfall streets in January. With cleansing partners Ramora, the initiative focused on the removal of a staggering 250,000 pieces of chewing gum.
We also power washed the flagstones and paving on Market Street, New Cathedral Street, Cross Street, Corporation Street, King Street, Deansgate, Exchange Square and St Ann's Square, to help bring some sparkle back after the busy Christmas markets period.
City Hosts

Our team of City Hosts (complete with shiny new uniforms) continue to welcome thousands of visitors to the central retail area, 364 days a year. The team also reports daily on operational, security and street issues and are your point of contact to the BID team in the office. The BID hosting team:
Mark Wilkes (Team Leader) – New Cathedral Street, Debenhams, Selfridges, M&S
Nicholas Mainka – Top Floor Manchester Arndale
Jason Cummings – St Ann's Square, Deansgate and Cross Street, Royal Exchange
Philip Dale – King Street
Joanna Kaiser – Ground Floor Manchester Arndale
Louise Jefferson – Market Street, Spring Gardens, Brown Street, St Mary's Gate.
Business Crime Reduction

Manchester's Business Crime Reduction Partnership (BCRP) of 350 CityCo and BID members helps to create a safe and secure city for customers, staff and visitors by reporting and tackling crime; offering expert training, providing access to the city centre radio link and real-time intelligence.
Over the past 12 months the BCRP has continued to support Greater Manchester Police, Manchester and Salford Licensing Units and Anti-Social Behaviour teams to reduce crime through the BCRP's offender management system with 3722 incidents recorded, generating 2199 individuals of interest; 240 exclusion notices served and 2100 warning letters sent.
To support, the team trained more than 200 retail staff on reducing loss from theft, credit card fraud, counterfeit currency and conflict management.
Action on Rough Sleeping

Rough-sleeping on Manchester's streets remains complex and challenging and a multitude of work is going on across city stakeholders to tackle the issue.
The Manchester Homelessness Partnership brings together charities, local authorities, service providers, businesses and people with personal experience of homelessness. The MHP has continued to meet regularly over the past 12 months to deliver tactical projects including Street Support and BigChangeMCR.
Street Support is a digital app that signposts people to donate time, money or items that are needed to help homeless people. BigChangeMCR is the city's alternative-giving campaign and has been shared across varied platforms thanks to the support of many BID members and media supporters.
Corporate Events

CityCo's networking events are open to BID members and are an opportunity to meet, tour the latest city developments, share best practice and hear from inspiring speakers from across the UK.
We've looked at Manchester's radical history and the dates that made the city what it is today, heard from the Leader of Manchester City Council, Sir Richard Leese and we've provided a series of platforms for Transport for Greater Manchester to share vital road development news to BID members.
We also explored the subject of ethical retail and asked what we can all do to be more responsible; echoed by an F&B Network discussion about sustainability in the restaurant industry.
Tour events took us for sneak previews of Mayfield Depot with U+I, Manchester Cathedral's West Tower and NOMA's Hanover Development.
Business Promotion

We continue to share city and BID news, resources, services information and how to join or participate in activities on our website, Twitter, LinkedIn and Instagram.
Do keep an eye on all of the channels to stay in the loop.
The BID Board

Chair. Jane Sharrocks, General Manager, Selfridges
David Allinson, Centre Director, Manchester Arndale
Zoe Averianov, Store Manager, TAG Heuer
Richard Forster, Senior Bank Manager, Manchester Flagship Lloyds Bank
Paul Hales, Area Manager, Costa Coffee
Roger Khoryati, Franchisee, McDonalds
John McEwan, Store Manager, Primark
Margaret Neville, General Manager, Boots
Roger Ward, Proprietor, Victorian Chop House Company
Sheona Southern, Managing Director, Marketing Manchester
Fiona Worrall, Director of Neighbourhoods, Manchester City Council
2018/2019 BID Finances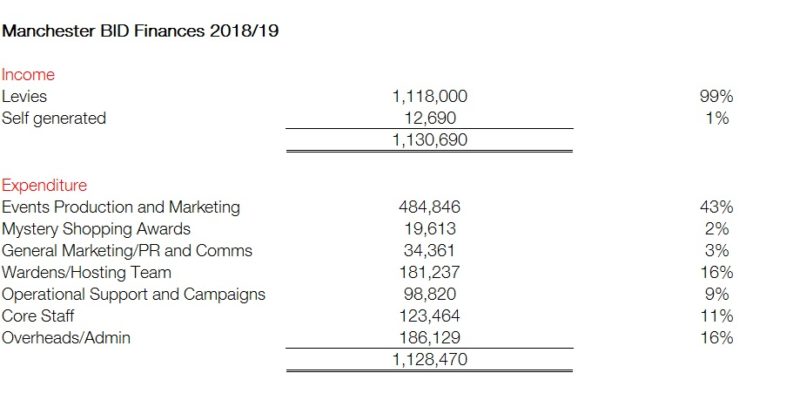 Find out More about Your BID
Drop a line to Phil Schulze your BID Manager: 0161 838 3250.