BRINGING £8.5 MILLION ADDITIONAL INVESTMENT INTO MANCHESTER CITY CENTRE: VOTE YES!
It's hard to believe it's been ten years since Manchester BID was founded. Coming out of the 2011 riots, a group of retailers and hospitality businesses came together to develop a campaign to attract people back into the city centre: 'Manchester Loves you.' It was created and rolled out in a matter of days. When the businesses saw how successful they could be when they all worked together, the idea for the first Manchester Business Improvement District rolled into view.
More than ten years on, the BID has helped see the city centre through the impact of the 2017 Manchester Arena Bombing, the building of the second city centre tram line, two years of Covid, massive demographic change, and a collapse in international tourism. At the end of it all, we're still doing what we originally set out to do – delivering large-scale events to attract people into the city, promoting the city centre as a place to visit, work and play, and building the business community's ability to react to both the everyday and the occasional crisis.
Manchester is growing as fast as it has ever done. Another 20-30,000 residents will be living in the city centre in the next decade. New cultural attractions, new hotels, new arenas are all coming online in the next year. Massive new office developments are underway. Retail is changing. Hospitality continues to grow. Offices will have some sort of hybrid model for the foreseeable future. And here we remain. Supporting Manchester as a city centre where people want to come to work, where they want to come to play, where they want to come to visit.
The pandemic proved how inter-connected the city centre is, and we have been approached by many office-based companies to ask for assistance as a BID company. As a result, we are looking at expanding into a wider geographic area and bringing office occupiers into the new term. Together we are stronger. In December, you get the chance to vote for the continuation of all the work of the BID, for another five years.
Think what we could achieve together in that time. Read all about our plans in the 2023-28 Manchester BID Prospectus.
Jane Sharrocks
Chair, Manchester BID & General Manager, Selfridges Exchange Manchester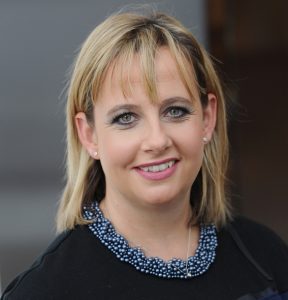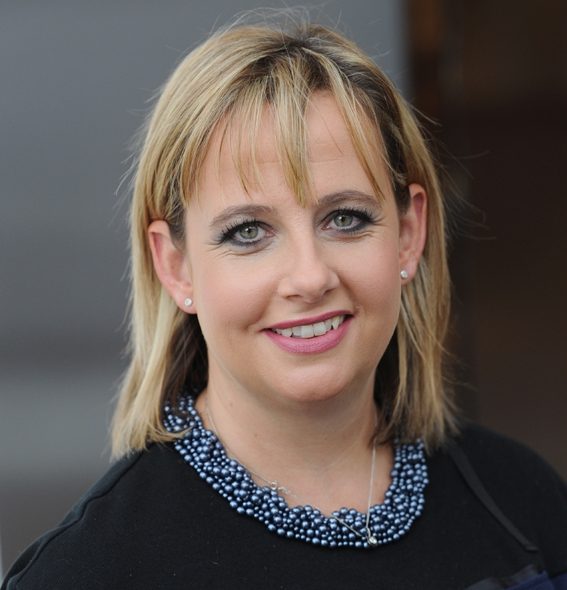 OUR PLAN FOR A NEW TERM
SUPPORTING BUSINESSES AROUND 4 KEY THEMES:
ATTRACTING VISITORS 
Attracting shoppers, visitors, tourists, and workers into the city centre, whilst enhancing the city's reputation as a thriving destination.
ENVIRONMENT
Improving the city centre as a welcoming, attractive, resilient, and safe place.
COMMUNITY
Maintaining a tight-knit relationship between levy payers and keeping businesses in the loop with city authorities.
ESG
Continuing to support businesses to help meet Environment, Social and Governance (ESG) commitments.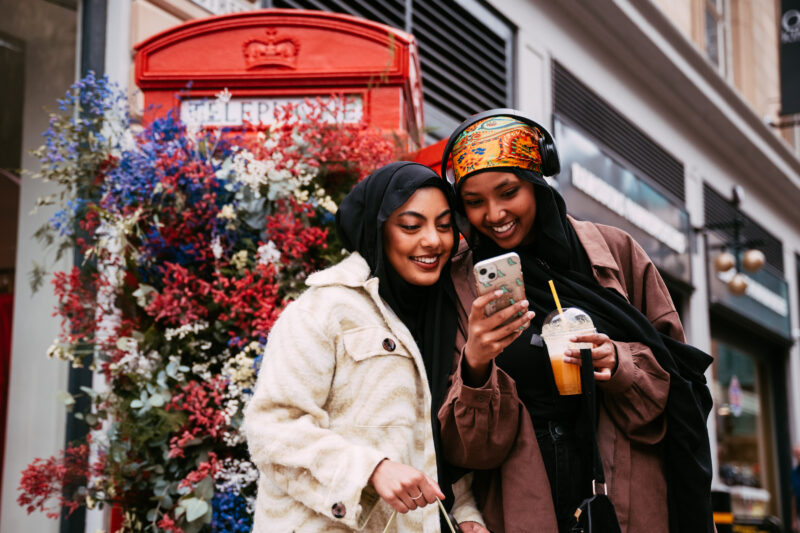 MANCHESTER BID 2023-28 LEVY RULES
Subject to the rules that follow, those hereditaments (rateable commercial units) within the proposed BID area, that will be subject to the BID levy, will be limited to the following VOA Classifications:
Bank and Premises
Betting Shop and premises
Café and Premises
Café Bar and Premises
Car Park and premises
Food Court and Premises
Kiosk
Kiosk and Premises
Hairdressing salons and premises
Leisure Centre and Premises
Offices
Offices and Premises
Office, workshop, and premises
Public House and Premises
Restaurant and Premises
Shop and Premises
Wine bar and premises
The levy rate to be paid by each hereditament is to be calculated as 1.7% of its rateable value. The levy will be charged in line with the NNDR system. The levy charged for the five-year period of the BID will be based on the rateable value as of 1st April 2023.
Thereafter, and throughout the duration of the BID Term, no further account will be taken of national rating revaluations.
The exception to the above is where a revised rateable value is applied because of any change of use or a physical change to a hereditament including, inter alia, new construction, merger, subdivision, extension, and refurbishment. In such circumstances, the revised rateable value will be used from the date of the change.
If a hereditament is shown in the ratings list for the first time, the rateable value shown in that list will be used for the remainder of the term from the date of entry. Hereditaments in Manchester Arndale without external frontages and all office premises (i.e., those within the classes 'Offices, Offices and Premises, Offices, workshop, and premises') will pay a levy rate of 1.5 % of their rateable value. Charitable organisations, which receive mandatory relief on their business rates, will have their levy reduced to 1% of rateable value. No other discounts or reductions shall apply.
Only properties or hereditaments with a rateable value of £40,000 or more will be eligible for payment of the BID levy. The maximum amount payable (the 'cap') in respect of any single hereditament will be £32,000 per annum.
After the full second year of operation, and annually for the remainder of the BID term, a flat rate increase of 2% per year will be applied to all levy rates, and to the cap. So, for example in year three the levy rates would be 72%, and 1.52% and 1.02% and the cap would be £32,640.
The number of properties or hereditaments liable for the levy has been calculated at approximately 600.
The ratepayer of untenanted hereditaments will be liable for payment of the levy.
Apart from as noted above (the annual inflationary increase to the BID levy due from Year 3 onwards), no elements of the BID arrangements may be altered without an alteration ballot.
2023-28 BID DISTRICT MAP
The dotted line on this map shows the boundary of the BID area. The shaded buildings show the CURRENT location of hereditaments within that area. For the avoidance of doubt a full, inclusive, list of streets (with relevant numbers where only partial streets are to be included in the BID area) follows.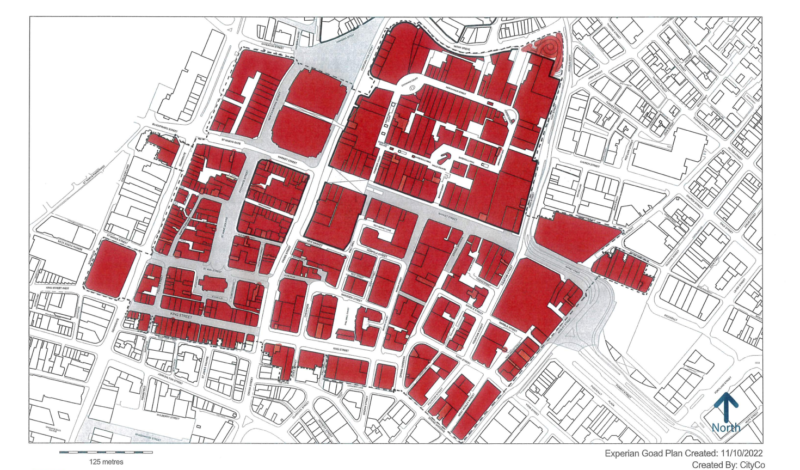 | | | |
| --- | --- | --- |
| BID Streets 2023-2028 | Even numbers | Odd numbers |
| | | |
| Back Pool Fold | | |
| Barton Arcade | | |
| Barton Square | | |
| Brown Street | 2 – 46 | 1 – 43A |
| Chapel Walks | | |
| Cheapside | | |
| Concert Lane | | |
| Corporation Street | | 15 – 15A |
| Corporation Street | | Unit GG |
| Cross Street | 2 – 62 | 1 – 35 |
| Deansgate | 48 – 58 | 1 – 95 |
| Deansgate | 98 – 116 | |
| Exchange Square | | |
| Exchange Street | | |
| Fountain Street | 2 – 52 | 1 – 53 |
| Half Moon Street | | |
| Kent Street | | |
| King Street | | |
| Marble Street | | |
| Market Street | | |
| Marriott's Court | | |
| Meal Street | | |
| Marsden Street | | |
| Milk Street | | |
| Mosley Street | 2 – 56 | |
| New Cathedral Street | | |
| New Market Lane | | |
| New Market | | |
| Norfolk Street | | |
| Old Bank Street | | |
| Pall Mall | | |
| Pall Mall Court | | |
| Phoenix Street | | |
| Piccadilly | | 1 – 17 |
| Police Street | | |
| Ridgefield | | |
| Royal Exchange | | |
| Royal Exchange Arcade | | |
| Sickle Street | | |
| Spring Gardens | 2 – 56 | 1 – 57 |
| St Ann's Alley | | |
| St Ann Street | | |
| St Ann's Churchyard | | |
| St Ann's Passage | | |
| St Ann's Place | | |
| St Ann's Square | | |
| St Mary's Gate | | |
| Sussex Street | | |
| West Mosley Street | | |
| York Street | | |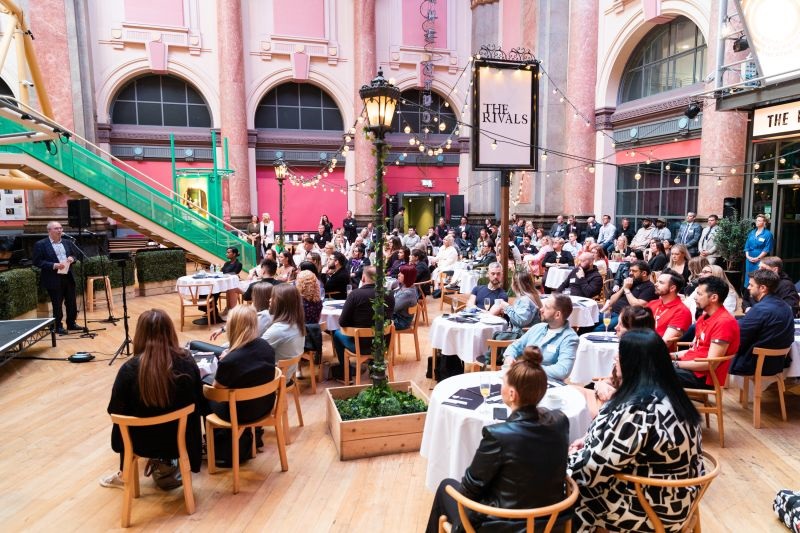 CONSULTATION PROCESS
As an active BID, we are constantly in contact with levy payers. We started the formal consultation process for the new BID at the beginning of 2022. Throughout the year we have run shadow boards (on and off-line), consultation workshops and open meetings to discuss potential objectives and the future business plan.
Feedback from meetings and discussions has shaped the prospectus, and directed us to focus much more heavily on operational delivery and on the ESG agenda. By the end of the consultation process around two-thirds of businesses liable to the levy will have attended one of these sessions, been talked to individually or received a mailing about the BID and the process.
GOVERNANCE
The Manchester BID Company is an independent, not-for-profit limited-by-guarantee company, run by an independent board of directors. Governance is in place at three levels:
The Board: via CityCo and its staff, manages the day-to-day delivery of the business plan particularly with regard to financial propriety and value. The Board is a small team representative of the different sectors of levy-payers. Should the BID ballot be successful, we will ask for expressions of interest in joining the Board, with a view to the new Board being in place by April 2023. The Board meets four to six times a year.
A wider Advisory Council: this will meet three or four times a year to discuss the wider performance of the city centre and the evolution of the BID business plan. Guests from stakeholders will be welcomed. The Advisory Council offers an opportunity for a wider range of businesses to be involved in the running of the BID company.
Two general meetings a year: the BID is committed to two general meetings a year, one to act as an AGM with the launch of the yearly business plan and schedule and one to provide a viewpoint during the calendar year.
Sub-groups and other committees will exist to support particular sectors. Currently these include Food and Beverage, Jewellery and Financial Services groups.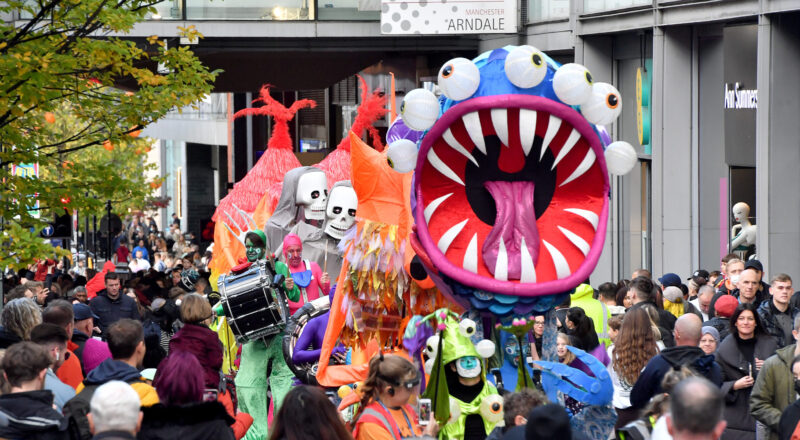 MANAGEMENT
Manchester BID is managed by CityCo, the city centre management company for Manchester. The Chief Exec and staff are responsible to the BID Board for the delivery of the Business Plan. Changes to the business plan have to be agreed by the Board. Working with CityCo means being able to share staff (including senior staff) and pool resources, meaning the company's overheads are lower than most of its peer BIDs.
The BID is also subsidised by receiving operational support, events and promotional activity just by virtue of the link with CityCo. This is represented on the financial pages by 'support in kind'. In turn it ensures that the vast majority of levy payments can be put towards the delivery of work.
CityCo has property and other members within the BID area, as well as numerous members outside of the BID, running both the city centre's Business Crime Reduction Partnership and administering the city's Pub and Club Network. Linking in to CityCo means that the BID is part of a wide network of businesses across the city centre.
The levy is collected by Manchester City Council and an operating agreement ensures the process is transparent. Manchester City Council currently ( FY 2022-23) charge £15,000pa for administering the levy collection process.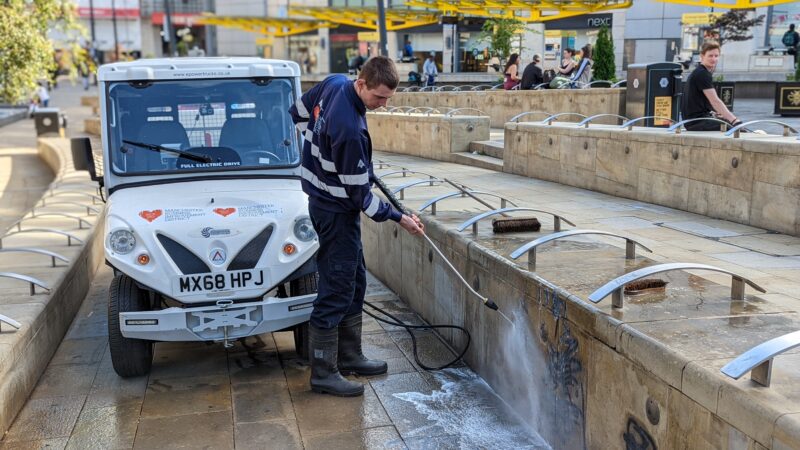 WHAT IS A BID?
A Business Improvement District is a specific geographical area where businesses agree to invest in extra services and initiatives that support and enhance the trading environment. Funding is brought together from a levy, based on commercial business rates. Activities are agreed in a set Business Plan, which is then voted-on in a legal ballot. If successful, BIDs run for a period of five years per 'term'.
The BID model is operating in most towns and cities across the UK, Europe, USA and beyond. Most UK city centres have BIDs including Liverpool, Birmingham, Leeds, Newcastle, Sheffield, Bristol, Edinburgh, Glasgow, Cardiff – as well as many in London. Manchester first launched its BID in 2013, and therefore has had a Business Improvement District in place for almost 10 years.
2023-28 BALLOT PROCESS
The second Manchester BID term ends in April 2023. To decide whether the BID continues for a new term, a ballot of eligible hereditaments (rateable commercial units) will take place this December. If successful, a new term will start in April 2023.
Civica will conduct a postal ballot that meets this timetable:
Monday 31st October: Official notice of ballot sent to businesses
Monday 14th November: Ballot papers dispatched
Monday 12th December: Final ballot date
Tuesday 13th December: Ballot count and result announced by 5pm
TALK TO US
To discuss Manchester BID and the ballot please contact:
Phil Schulze
Manchester BID Manager
phil.schulze@cityco.com
07764 977 556