Updated 22 July 
CityCo and Manchester BID continue to support to our membership networks and the wider business community. Do contact us for any help you need:
Phil Schulze, BID Manager | phil.schulze@cityco.com | 07764 97756
Andy McDermott, BID Projects | Andrew.McDermott@cityco.com | 07807 700535
Welcome Back Retail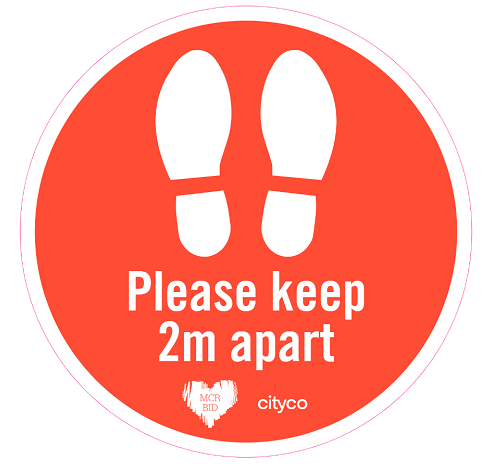 Download Floor Stickers Artwork – 40cm
Queue Management
We have already been in contact with those businesses likely to form the largest queues and informed the Council. For those levy payers within Manchester Arndale, you will be aware the centre is operating a one-way system and has capacity limits.
The Council are installing a series of 'Walk this Way' street markings and safety messages to emphasize social distancing and safety messages across the city.
For individual businesses, your own Risk Assessments and adherence to government guidelines should include managing social distancing at entry and exit from your premises.
If marking out indicative spacing on public realm, the area marked out should only be directly in front of the property owned or rented by your business.
If you consider that you require an area wider than your frontage, then this should be done in agreement with your neighbouring businesses. Please let us know if you need any help with this, particularly if looking at using any side streets nearby.
The area should be no more than 2m from the building frontage, and so must leave clear footway space between the markings and the rest of the paved street i.e. for people to pass by the queue.
The 'markings' must be temporary and removable, such as tape or vinyls. For those without their own materials, we have a limited number of 'BID foot-print' vinyl's which are available free of charge. Please let us know if you want to reserve some stock.
The use of barriers, physical queuing systems, physical signage units, A-boards etc is discouraged, as this creates street clutter and, in some cases, will be a barrier to movement of pedestrians. This has been emphasised and instructed by both GMP and the Council.
As recommended by the British Retail Consortium, we encourage you to "use a colleague to meet customers, explain social distancing requirements within the store and control the number of customers entering store at any one time".
In locations of key risks and hotspots, the Council may find it necessary to direct activity beyond providing advice. Hopefully, we have anticipated major 'pinch points' such as near Metrolink stops, but obviously this is very much as learning exercise for all of us as we go into next week and beyond. Keep in touch.
Top Tips for reopening from Retail General Managers
M&S youtube.com/watch?v=YTE2Rns-FAY
Nationwide youtube.com/watch?v=kQAroD-_1u8
Costa Coffee youtube.com/watch?v=SeO8ZNrHq3Q
Zoom Business Briefings
To support our networks we have hosted a series of Zoom Business Briefings with the leaders of Manchester's public sector organisations and agencies including the Council, Police and Transport.
To update any company contacts details for future invitations, please email info@manchesterbid.com.
4 July MCC Licensing, Sales and Policing Letter
All licensed venues in the city have been sent this letter to outline guidance and protocols for Saturday 4 July onwards.
The letter sets out licensing and sales checklists, a policing update and how to apply for a temporary outdoor Tables and Chair Licence if you wish to do so.
Other Useful Council Documents for F&B Businesses
Working Safely through Covid-19
Personal Data Retention: Track and Trace Guidance
cityco.com/personal-data-retention-covid-19
City Centre Road Closures, Pavement Widening and Bollard Changes for Social Distancing
Road closures and footpath widening are in place to assist with social distancing. Starting with the partial closure of Deansgate last month, Stevenson Square, Edge Street, Thomas Street, Blossom Street, Southmill Street, Wakefield Street and others are to follow:

Please note in addition: Manchester City Council are about to begin work to upgrade the rising bollard systems which restrict vehicle access to roads in some parts of the city centre.

There are 19 sites in total with one cluster around the city centre's main retail areas including: Market Street, St Ann's Square, Exchange Square and King Street, and a second cluster around Canal Street.
Welcome Back Campaign Assets
Manchester City Council has created a campaign with health and safety and friendly 'welcome back' messaging to provide reassurance as the city reopens
The bright, positive campaign is running across the city's digital screens alongside poster sites, billboards, social media and web
Artwork versions include:"Mask Up" We Missed You" "Maintain Social Distance" "Yes! You're Back" "Look After Each Other" "Hi! Good to See You" "You're Not Alone"
We encourage businesses to use the campaign materials as you wish around stores, workplaces and via online channels
Download Poster Packs, Digital Screen Artwork and Social Media Toolkits at welcomebackmanchester.com