As your constant champions, CityCo and Manchester BID have an influential role in helping to lobby local authorities, transport organisations and other public agencies on your behalf. We keep your interests at the forefront of a city that's always changing.
To assist members, we run a series of working forums to resolve area-specific issues and represents businesses at a range of other multi-agency committees attended by partners including Manchester City Council, Salford City Council, Marketing Manchester, Visit Salford, Transport for Greater Manchester and Greater Manchester Police.
The meetings allow for networking, sharing of plans and discussion around developments, challenges and opportunities for our growing cities.
Our Forums
BCRP City Centre Intelligence Briefing
CityCo & Manchester BID Cleansing Committee
Greengate Action Group
Manchester Arndale Tenants Security Meeting
Manchester BID Sector Groups (Events & Marketing, Operations, Large Stores, F&B, Jewellery, Financial Services)
MediaCity Action Group
Northern Quarter Small Business Forum
Petersfield Operations Group
Piccadilly Hoteliers Group
Salford Hoteliers Group
Tib Street Action Group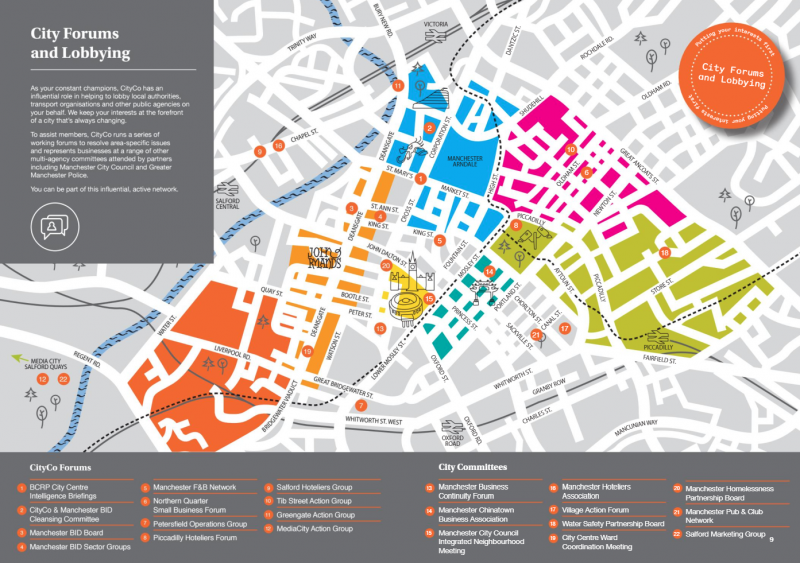 We also represent business interests at a range of other city committees:
City Centre Licensing Multi-Agency Meeting
City Centre Ward Coordination Meeting
Manchester Chinatown Business Association
Manchester City Council Integrated Neighbourhood Meeting
North West Crime Regional Crime Meeting
Salford Marketing Group
TfGM Traffic and Transport Group
Village Action Forum
Village Business Licensing Association
Water Safety Partnership Board.
You can be part of this influential, active network.
To enquire about membership, please email Athena.
If you are a CityCo or Manchester BID member and require support, please email Richard.