The UrbInfo Property Developments Map (c. Ed Howe, in partnership with CityCo) is a useful publicly available tool to track our city's growth. The map shows developments under construction or proposed in Greater Manchester.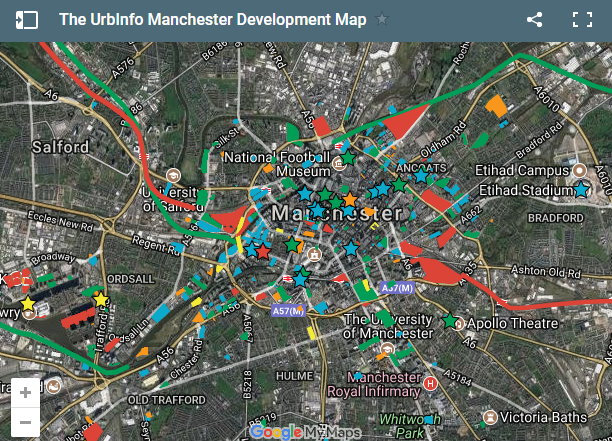 Green = Under Construction currently
Blue = Approved projects or just about to begin
Orange = Projects holding planning applications
Red = Proposals without planning apps
Yellow = Projects completed within the last 6 months
Follow @urbinfomanc on Twitter for alerts to new pins on the map.
Bespoke Maps for CityCo and BID members
Our members businesses can access a range of more specific maps relevant to location or sector including details of the area of construction, size of development e.g. number of hotel rooms, architect, developer and completion date.
The maps detail those developments in pre-planning, planning application stage, approved, in ground works, under construction and anything completed in the last 5 years.
Sector maps we can provide are Hotels, Student Accommodation, Residential and Commercial builds.