In a changing city and in a challenging times, it is always worth reviewing emergency plans and business continuity practices in the event of emergencies.
It is strongly recommended that businesses sign-up to follow local emergency services via Twitter for up-to-the minute updates including @gmpolice @ManchesterFire @NWAmbulance @MENnewsdesk @BBCBreaking @mancitycouncil.
On our feeds @CityCo @ManchesterBID we only ever share trusted sources.
Manchester City Centre Emergency Evacuation Zones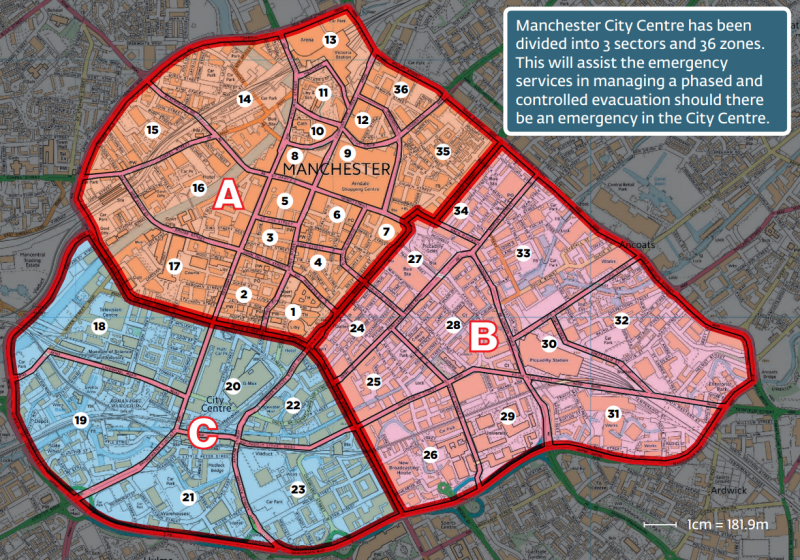 What should I do if an evacuation of my zone is required?
Follow the advice of the emergency services
Implement your building evacuation plan and make sure everyone is out and accounted for
Use security staff and other nominated staff to direct people to assembly points
Secure your building (if possible)
The emergency services will inform you of when it's safe to return to the affected areas of the city centre.
How can I prepare?
You should prepare an evacuation plan for your premises and consider: how staff/visitors will be alerted. Ensure that they know what to do and where to go
Who has responsibility for building evacuation and how are they trained?
Pre-identify fire assembly points a safe distance from your building
Pre-identify bomb assembly points (both primary and secondary) in different zones, based on minimum cordon distances, eg. 100m, 200m and 400m
An assembly point outside the city centre
Consider the option of invacuation areas/the use of protected spaces, should an incident not warrant immediate evacuation (or in the event of a firearms attack)
How would you support staff or visitors with specific needs (eg. visual impairments)?
Prepare a 'grab bag' to take with you
Grab-Bag Check List
Torch
Mobile phone, charger and contact list
Radio
Information and documents
Keys
Money
First Aid Kit
Bottled water
Manchester Business Continuity Forum
The MBCF is a partnership in the city that is a source of free business continuity training, advice and information to help you develop and improve your organisation's resilience.
manchester.gov.uk/businesscontinuity
Greater Manchester Resilience Forum (GMRF)
The GMRF is a partnership of agencies from across the region with responsibility for coordinating and overseeing emergency planning. It's overall purpose is to ensure that there is an appropriate level of preparedness to enable an effective multi-agency response to emergency incidents which may have significant impact.
Protecting Your Business During An Emergency
Cyber Security
Flooding
NaCTSO Crowded Place Guidance
The National Counter Terrorism Security Office (NaCTSO) launched revised Crowded Places guidance in June 2017, aimed at those with a responsibility for security at crowded places and those who own or run businesses, organisations, amenities or utilities. It caters to a number of different sectors.
Crowded Place Guidance
National Counter Terrorism Security Office
Action Counters Terrorism (ACT) Awareness E-Learning
The Business Emergency Resilience Group (BERG) '10 Minute Plan' is designed to help small to medium-sized businesses prepare for, respond to and recover from emergencies such as flooding, cybercrime and civil unrest.