Manchester Day
Date & Time
Manchester Day is taking place on Sunday 17 June. The theme for this year is The Word on the Street, where Manchester's communities will come together to celebrate all that's great about Manchester, and listen to what people across the city are saying. Now in its ninth year, Manchester Day is one of the city's most loved events, attracting more than 60,000 people.
Manchester Day is a parade and entertainment in three of Manchester's squares.
In order for the parade to take place, the City Council are making some temporary road closures.
SUNDAY 17 JUNE, 12–6pm: Parade Route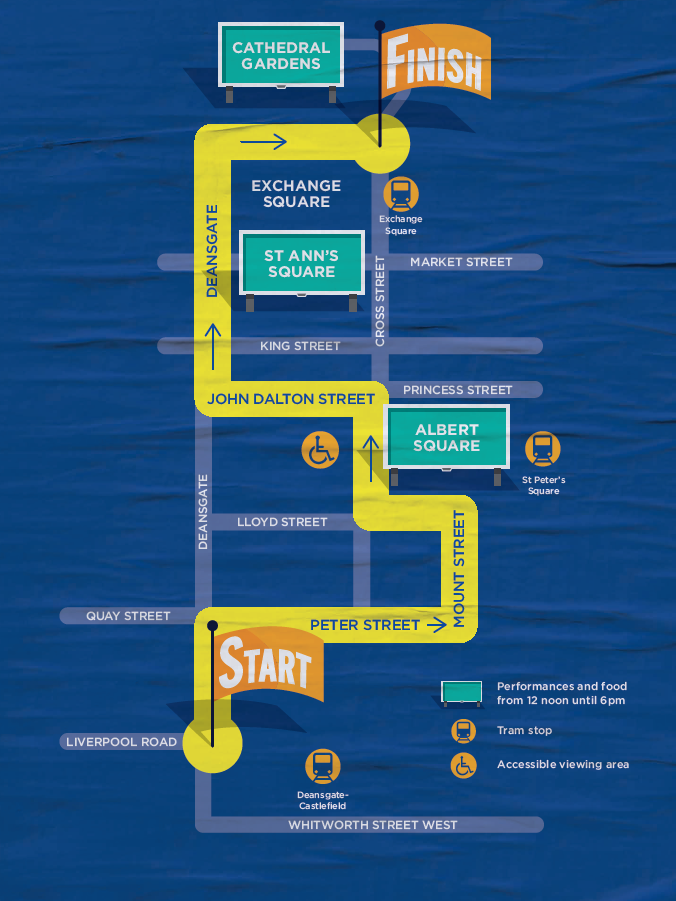 Sunday 17 June Road Closures
From 7am–6pm
Liverpool Road (from Potato Wharf to Deansgate)
From 7am–4pm
Cateaton Street (from Exchange Square to Deansgate)
From 12.30–3.30pm
Peter Street (from Lower Mosley Street to Deansgate)
Cooper Street (from Kennedy Street to Princess Street)
Cross Street (from King Street to Albert Square)
John Dalton Street (from Albert Square to Deansgate)
Princess Street (Portland Street to Albert Square)
Corporation Street (from Todd Street to Withy Grove)
Withy Grove (from Dantzic Street to Todd Street)
From 12.30–4pm
Deansgate (from Liverpool Road to Cateaton Street)
Albert Square (from Lloyd Street to Princess Street)
Mount Street (from Lloyd Street to Peter Street)
Traffic regulation orders will also be in operation for:
• Watson Street and Kennedy Street – these will be one-way in the opposite direction to usual
• Todd Street – the bus lane will be suspended
Access to premises
Access to and from the following roads will be limited between 12 noon and 5pm: Lloyd Street, Queen Street, South King Street, St Ann Street, Bootle Street, Jackson's Row
Access to the following will be available, but NOT via Deansgate: Tonman Street, Camp Street, Byrom Street, Longman Street, St John Street, Artillery Street, Quay Street, Southgate, Little Quay Street, Hardman Street, Bridge Street, King Street West, Great Bridgewater Street
Access to the following will be available, but NOT via Liverpool Road: Southern Street, Bridgewater Street, Stone Street, Duke Street, Rice Street
Parking suspensions will be in operation along all route roads. Full details can be found on the website shortly before the event: manchesterday.co.uk
Full traffic diversion signage will be in place across all areas affected by road closures.
If you have any concerns before the event or simply want to find out more, please contact the City Council Events Unit on 0161 234 1778.
On the day, stewards will be positioned along the route to help with queries.