Manchester Homelessness Partnership
CityCo and Manchester BID support The Manchester Homelessness Partnership. The MHP is a network of people experiencing homelessness, charities, voluntary groups and businesses who are all working together to tackle the problem.
The MHP Guide for Businesses includes information for people working with people who are homeless, ideas to consider in certain situations and more about the different forms of homelessness and how to help.
Street Support
The Street Support app is the online tool that sets out ways people can help the homeless in Manchester.
People can find local services to meet the needs of people experiencing homelessness and give help as a citizen or business.
Big Change MCR Campaign
Big Change MCR is Manchester's campaign to share ways the public can help the homeless and rough sleepers in Manchester. Instead of direct donations on the street, the Big Change fund is about helping individuals build lives away from the streets by offering practical services, items and money to pay for things that are needed. For example a deposit for a home, training course or travel costs.
Share the campaign messaging: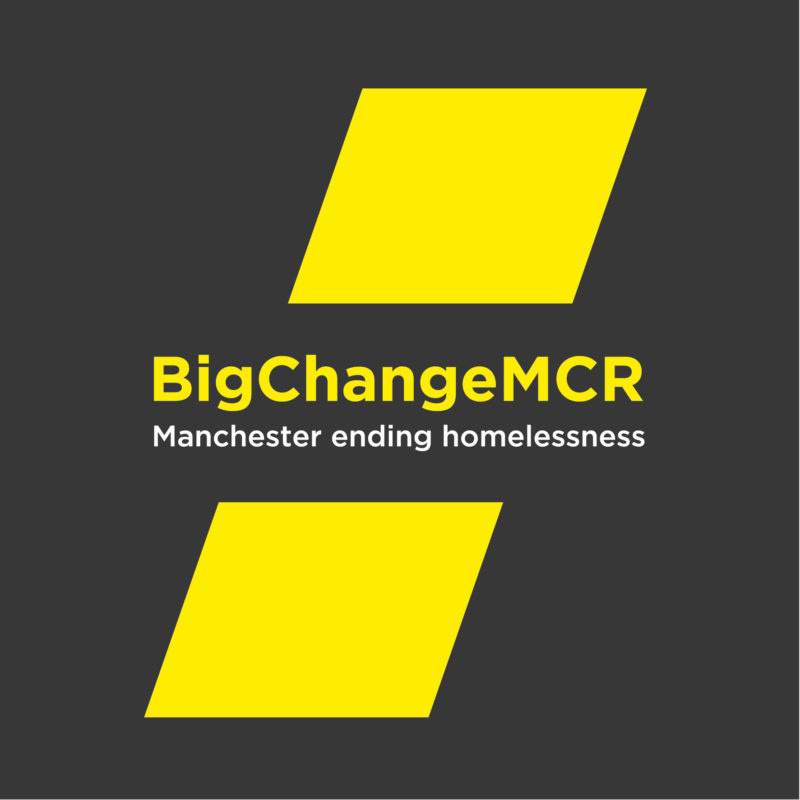 St John's Homelessness Initiative
The St John's Manchester Homelessness Initiative is a joint commitment from all organisations involved in the large-scale central Manchester property development (Allied London, Laing O'Rourke, McLaren, DWP, Riverside, Adept Corporate Services, Bruntwood, GMCA, All+ Management) to contribute towards ending homelessness through awareness-raising, inclusive employment and fundraising.
The initiative is a collaboration between property developers, construction contractors, supply-chain organisations, CityCo, Manchester City Council, BigChangeMCR, Street Support, local charities and people who have personal insight into homelessness.
Services for Rough Sleepers in City Centre Manchester
If you have immediate concerns for the welfare of a rough sleeper you can call 999 or 101 and the police will take the appropriate action. You can also report to  roughsleeperteam@manchester.gov.uk
Manchester City Council
People can present as homeless to the Manchester City Council Customer Service Centre.
Office hours (9am-4.30pm) 0161 234 4692
haasdutyofficer@manchester.gov.uk

Out of Hours (4.30-9pm) 0161 234 5001
mcsreply@manchester.gov.uk
Urban Village Medical Practice
Urban Village Medical Practice is the main provider of primary health care to homeless people in Manchester city centre.
Registration times: Monday 1-3pm, Friday 10am-noon
Drop-In Services Timetable
Monday
07:30 – 14:00 Loaves and Fishes Paddington Close, Salford, M6 5PL. Hot food, support, washing facilities, medical support
08:30 – 20:00 Samaritans 74 Oxford Street, Manchester, M1 5NH. Confidential mental health support
09:00 – 03:00 Booth Centre Edward Holt House, Pimblett Street, Manchester, M3 1FU. Hot food, refreshments, support, washing facilities, hair cuts
10:00 – 12:00 Centrepoint, City Centre Project, 52 Oldham Street, M4 1LE. Breakfast, laundry, showers, support, computers. Suitable for 16 – 25 year olds
10:00 – 16:30 Albert Kennedy Trust, 5 Oak Street, Manchester, M4 5JD. Support, suitable for LGBT
10:00 – 16:00 Breakthrough Cyber Cafe Creative Support Manchester Community Services, 2nd Floor, Dale House, 35 Dale Street, Manchester, M1 2HF. Food, mental health support, computers, refreshments, skills learning
10:00 – 16:00 Barnabus, The Beacon, 45 Bloom Street, Manchester, M1 3LY. Food, hot meals, skills learning, medical support, washing facilities
15:00 – 18:00 Manchester Action on Street Health (MASH) 94-96 Fairfield St, Manchester, M1 2WR. Needle exchange, sexual advice, refreshments, support. Suitable for sex workers
19:00 – 21:00 Coffee4Craig 52 Oldham Street, Manchester, M4 1LE. Hot food, advice and support, washing facilities, TV
19:45 – 21:00 Barnabus The Beacon, 45 Bloom Street, Manchester, M1 3LY. Food, hot meals, skills learning, medical support, washing facilities
Tuesday
10:00 – 16:30 Immigration Aid Unit 1 Delaunays Road, Crumpsall Green, Manchester, M8 4QS. Immigration or asylum seeker support
08:30 – 20:00 Samaritans 74 Oxford Street, Manchester, M1 5NH. Confidential support
09:00 – 03:00 Booth Centre Edward Holt House, Pimblett Street, Manchester, M3 1FU. Hot food, refreshments, support, washing facilities, hair cuts
10:00 – 16:30 Albert Kennedy Trust, 5 Oak Street, Manchester, M4 5JD. Support, suitable for LGBT
10:00 – 16:00 Breakthrough Cyber Cafe Creative Support Manchester Community Services, 2nd Floor, Dale House, 35 Dale Street, Manchester, M1 2HF. Food, mental health support, computers, refreshments, skills learning
10:00 – 16:00 Barnabus The Beacon, 45 Bloom Street, Manchester, M1 3LY. Food, hot meals, skills learning, medical support, washing facilities
14:00 – 16:00 Lifeshare, 1st floor, 27 Houldsworth Street, Manchester, M1 1EB. Support suitable for 16 -25 year olds
15:00 – 18:00 Manchester Action on Street Health (MASH) 94-96 Fairfield St, Manchester, M1 2WR. Needle exchange, sexual advice, refreshments, support. Suitable for sex workers
19:00 – 21:00 Coffee4Craig 52 Oldham Street, Manchester, M4 1LE. Hot food, advice and support, washing facilities, TV
19:45 – 21:00 Barnabus The Beacon, 45 Bloom Street, Manchester, M1 3LY. Food, hot meals, skills learning, medical support, washing facilities
Wednesday
07:30 – 14:00 Loaves and Fishes Paddington Close, Salford, M6 5PL. Hot food, support, washing facilities and medical support
08:30 – 20:00 Samaritans 74 Oxford Street, Manchester, M1 5NH. Confidential support
10:00 – 16:30 Immigration Aid Unit 1 Delaunays Road, Crumpsall Green, Manchester, M8 4QS. Immigration or asylum seeker support
10:00 – 16:30 Albert Kennedy Trust, 5 Oak Street, Manchester, M4 5JD. Support, suitable for LGBT
10:00 – 16:00 Breakthrough Cyber Cafe Creative Support Manchester Community Services, 2nd Floor, Dale House, 35 Dale Street, Manchester, M1 2HF. Food, mental health support, computers, refreshments, skills learning
10:00 – 16:00 Barnabus The Beacon, 45 Bloom Street, Manchester, M1 3LY. Food, hot meals, skills learning, medical support, washing facilities
15:00 – 18:00 Manchester Action on Street Health (MASH) 94-96 Fairfield St, Manchester, M1 2WR. Needle exchange, sexual advice, refreshments, support. Suitable for sex workers
19:00 – 21:00 Coffee4Craig 52 Oldham Street, Manchester, M4 1LE. Hot food, advice and support, washing facilities, TV
19:00 – 21:00 Sanctuary at Mustard Tree, 110 Oldham Rd, Manchester. M4 6AG We offer a 2 course hot meal, hot drinks, live music and games (including table tennis) on the first Wednesday of the month
19:45 – 21:00 Barnabus The Beacon, 45 Bloom Street, Manchester, M1 3LY. Food, hot meals, skills learning, medical support, washing facilities
Thursday
07:30 – 14:00 Loaves and Fishes Paddington Close, Salford, M6 5PL. Hot food, support, washing facilities and medical support
08:30 – 20:00 Samaritans 74 Oxford Street, Manchester, M1 5NH. Confidential support
09:00 – 03:00 Booth Centre Edward Holt House, Pimblett Street, Manchester, M3 1FU. Hot food, refreshments, support, washing facilities, hair cuts
10:00 – 16:30 Albert Kennedy Trust, 5 Oak Street, Manchester, M4 5JD. Support, suitable for LGBT
10:00 – 16:00 Breakthrough Cyber Cafe Creative Support Manchester Community Services, 2nd Floor, Dale House, 35 Dale Street, Manchester, M1 2HF. Food, mental health support, computers, refreshments, skills learning
10:00 – 16:00 Barnabus The Beacon, 45 Bloom Street, Manchester, M1 3LY. Food, hot meals, skills learning, medical support, washing facilities
15:00 – 18:00 Manchester Action on Street Health (MASH) 94-96 Fairfield St, Manchester, M1 2WR. Needle exchange, sexual advice, refreshments, support. Suitable for sex workers
19:00 – 21:00 Coffee4Craig 52 Oldham Street, Manchester, M4 1LE. Hot food, advice and support, washing facilities, TV
19:45 – 21:00 Barnabus The Beacon, 45 Bloom Street, Manchester, M1 3LY. Food, hot meals, skills learning, medical support, washing facilities
Friday
07:00 – 09:00 St Ann's Church St Ann's Street, Manchester, M2 7LF. Toilet facilities, breakfast
08:30 – 20:00 Samaritans 74 Oxford Street, Manchester, M1 5NH. Confidential support
09:00 – 03:00 Booth Centre Edward Holt House, Pimblett Street, Manchester, M3 1FU. Hot food, refreshments, support, washing facilities, hair cuts
09:30 – 11:00 Justlife 1479-1489 Ashton Old Road, Manchester, M11 1HH. Refreshments, support. Suitable for people living in unsupported temporary accommodation
10:00 – 12:00 Centrepoint City Centre Project, 52 Oldham Street, M4 1LE. Breakfast, laundry, showers, support, computers. Suitable for 16 – 25 year olds
10:00 – 16:30 Albert Kennedy Trust, 5 Oak Street, Manchester, M4 5JD. Support, suitable for LGBT
10:00 – 16:00 Breakthrough Cyber Cafe Creative Support Manchester Community Services, 2nd Floor, Dale House, 35 Dale Street, Manchester, M1 2HF. Food, mental health support, computers, refreshments, skills learning
10:00 – 16:00 Barnabus The Beacon, 45 Bloom Street, Manchester, M1 3LY. Food, hot meals, skills learning, medical support, washing facilities
12:30 – 15:30 Manchester Action on Street Health (MASH) 94-96 Fairfield St, Manchester, M1 2WR. Needle exchange, sexual advice, refreshments, support. Suitable for sex workers
14:00 – 16:00 Lifeshare 1st floor, 27 Houldsworth Street, Manchester, M1 1EB. Support suitable for 16 -25 year olds
19:00 – 21:00 Barnabus The Beacon, 45 Bloom Street, Manchester, M1 3LY. Food, hot meals, skills learning, medical support, washing facilities
Saturday
08:30 – 20:00 Samaritans 74 Oxford Street, Manchester, M1 5NH. Confidential support
17:00 – 19:00 Coffee4Craig 52 Oldham Street, Manchester, M4 1LE. Hot food, advice and support, washing facilities, TV
Sunday
08:30 – 20:00 Samaritans 74 Oxford Street, Manchester, M1 5NH. Confidential support
17:00 – 19:00 Coffee4Craig 52 Oldham Street, Manchester, M4 1LE. Hot food, advice and support, washing facilities, TV