Manchester Homelessness Partnership
CityCo and Manchester BID are members of The Manchester Homelessness Partnership. The MHP is a network of people experiencing homelessness, Manchester homeless charities, voluntary groups and businesses who are all working together to tackle the problem.
Partners include The Bishop of Manchester, Wood Street Mission, Riverside Housing, The Booth Centre, Lifeshare, Coffee4Craig, Mustard Tree, The Men's Room, Barnabus, Manchester Action on Street Health, Back on Track, Boaz Trust, On the Out, MACC, JustLife, Reach Out to the Community, Greater Together Manchester.
The MHP Guide for Businesses includes information and guidance for people working with people who are homeless and sleeping-rough, ideas to consider in certain situations, and more about the different forms of homelessness and how to help.
For more information about The Manchester Homelessness Partnership, please email CityCo's Partnership Director Alex King.
RealChangeMCR Fundraising Campaign
When businesses and the public give spare change to Real Change MCR, we make sure that the money goes towards accommodation and setting up a home.
The Real Change MCR fund works with over 20 local charities who are dedicated to helping people off the streets of Manchester.
CityCo is proud to be a partner of Real Change MCR, and offers it members insight into the work of the fund and the wider Manchester Homelessness Partnership. If you would like a briefing or training session on any aspect of  street homelessness in Manchester, please contact operations@cityco.com.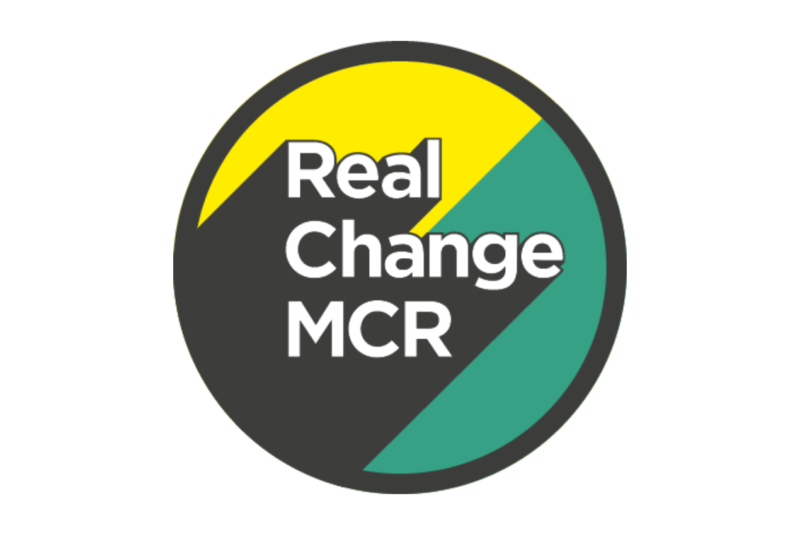 St John's Homelessness Initiative
The St John's Manchester Homelessness Initiative is a joint commitment from all organisations involved in the St John's Manchester property development including Allied London, Laing O'Rourke, McLaren, DWP, Riverside, Adept Corporate Services, Bruntwood, GMCA and All+ Management. All have pledged to contribute towards ending homelessness through awareness-raising, inclusive employment and fundraising.
The initiative is a collaboration between the developers, construction contractors, supply-chain organisations, CityCo, City Council, BigChangeMCR, Street Support, charities and people who have personal experience of homelessness.
stjohnsmanchester.com/st-johns-homelessness-initiative
Representing Homelessness in the Media
CityCo has pledged to support the MHP in trying to improve how homelessness is represented in the media.
The causes of homelessness are complex and often are the result of structural factors. Without public understanding of the extent of homelessness in the UK and the myriad of causes, the sensationalised approach often seen in the media has a damaging impact and slows down the institutional reform that is needed for change.
Rough sleeping is just the tip of the iceberg, but accounts for the vast majority of media coverage related to homelessness, and this can cause problems off camera for the people involved who despite often being in a vulnerable position are not afforded additional legal or safeguarding protections.