2022-23 Manchester BID 'Environment, Social & Governance' Review
17th Apr 2023
IT'S ALL ABOUT GOOD
HOW MANCHESTER IS BALANCING PEOPLE, PLANET AND PROFIT
Commitment by city centre businesses to tackle major environmental and social issues is revealed in groundbreaking new report.
The commitment and approach by Manchester city centre businesses to tackle major environmental and social issues has been revealed in a groundbreaking new report.
Commissioned by Manchester City Centre Business Improvement District (Manchester BID), and undertaken by Creative Concern, the 2022-23 Environment, Social & Governance Review is the first study of its kind in the city.
Dubbed an 'ESG Healthcheck', hundreds of Manchester city centre businesses were assessed on their approach to a range of environmental issues, including reducing carbon emissions and waste, how they embrace diversity and their commitment to charity partnerships.
The research undertaken demonstrated a genuine breadth of action across sectors from fashion and hospitality to health and beauty and banking in the city centre. Strong sustainability themes emerged across all sectors including the reduction in single use plastics, zero waste to landfill, climate action, biodiversity, and the circular economy. Social action was highlighted too including diversity and inclusion, educational partnerships, LGBTQ+ rights, fair trade, and action on poverty.
And while many of the businesses highlighted in the report have a national or international footprint (which inevitably means many of their commitments around issues such as deforestation and ethical sourcing are global in scale), the report highlighted examples of partnerships impacting on a local scale too.
These include jeweller Mappin & Webb's support of the Manchester Food Bank, commercial law firm Hill Dickinson's foundation which gives small grants to community organisations in Manchester, commercial property specialist Bruntwood's support of a raft of biodiversity and climate change projects and Patagonia's support of Manchester's City of Trees, which aims to plant 3 million trees, one for every person across Greater Manchester, within five years.
Examples of Manchester businesses demonstrating a progressive and proactive approach to equality, inclusivity and diversity which were highlighted in the report include Manchester-based finance and B-corp status company, Zuto where 43% of the management team identify as women – more than double the average at other fintech firms. At Gateley, the Women Returners' scheme in Manchester offers a six-month placement to solicitors who have been out of practising law for at least 12 months and in 2022, Thompsons Solicitors achieved Mansfield Rule accreditation demonstrating its commitment to increasing female, BAME, disabled and LGBTQ+ lawyers in leadership roles.
The 2022-23 Environment, Social & Governance Review now aims to act as a starting point for work across the city to ensure this good practice becomes standard across the board and includes a specific action to leverage more global corporate commitments on ESG into local partnerships and programmes.
A dedicated task group of business leaders taken from the BID membership will take forward the report's findings, drawing up a programme of activity to help celebrate its findings and work with BID levy payers to boost their levels of ESG and in doing so ensure that Manchester city centre really is a place that works to balance people, planet, and profit.
Jane Sharrocks, Manchester BID Chair and General Manager of Selfridges Exchange Square said: "Being able to showcase all that is being done by progressive firms across the city offers us more than just an opportunity to embed ESG ever more firmly in Manchester; it's also good for the Manchester brand. If consumers across all demographics and in particular 'Gen Z' are folding these issues into their daily purchasing decisions then ensuring that the city centre for social and environmental responsibility will be good for business, as well as the planet.
"Business Improvement Districts are now a proven way for businesses to help direct the future of the area they're invested in, have a voice on key issues like security, work together to increase footfall and retail spend and to get involved in place making and promotion. As this report for Manchester BID clearly shows, there is also now a clear opportunity for BIDs across the UK to also support, celebrate, and catalyse greater high street action on the issues that matter."
Steve Connor, Founder & Director of Creative Concern said: "Progressive businesses build stronger brands, and by taking what we've called an 'ESG healthcheck' of city centre companies, Manchester BID is breaking new ground in making the environmental and social impact of key sectors a place-based priority, too. 
"From this starting point, they can work with partners to improve ESG performance, create stronger local connections with charities and environmental causes, and ensure that Manchester is known for having a Business Improvement District that has positive impact on the issues that matter."
Manchester BID NEW TERM
The release of the Environment, Social & Governance Review coincides with the start of Manchester BID's third five-year term this month, following a successful re-ballot in November 2022.
After ten years of success representing more than 400 retail and hospitality businesses, Manchester BID's footprint has been expanded in its third term to incorporate 200 offices and help evolve its cross-sector membership. Alongside the Manchester Accommodation BID, it will see an additional £6million a year invested into the city centre.
In its new term, Manchester BID will continue to support businesses through its operational and lobbying services, attract visitors, shoppers, and workers into the city centre through its annual events calendar including next month's Manchester Flower Festival and continue to deliver regional, national, and international promotional campaigns.
The BID will also deliver on a substantial regular programme of street cleaning and environmental improvements to continue to enhance the city centre, and with its expanded membership will now represent the whole central business community and work in its best interests.
ENDS
For more media information please contact Anoushka or Kat at ECHO on 07732 846650 or email anoushka@echo-pr.co.uk / kat@echo-pr.co.uk
Notes to Editors:
Manchester City Centre Business Improvement District
BIDs are defined geographical areas where businesses work together and invest in agreed services, initiatives, and special events, and are financed by a levy made based on rateable value. They operate in most cities and towns across the UK.
Manchester BID, which is managed by The City Centre Management Company, CityCo, was successful in securing a third, five-year term, in December 2022 and began the new term on 1st April 2023.
In its new term, the BID brings together 600 businesses including retail, hospitality, and offices, spanning Deansgate, King Street, Cross Street, St Ann's Square, Market Street, New Cathedral Street, Manchester Arndale, Spring Gardens, Fountain Street and more.
In recent years, the BID has played an instrumental role in the city's recovery post-Covid and brings businesses together with key authorities including Manchester City Council, Marketing Manchester, Transport for Greater Manchester, and Greater Manchester Police.
Work is delivered around four themes: Attracting Visitors, Environment, Community, and ESG.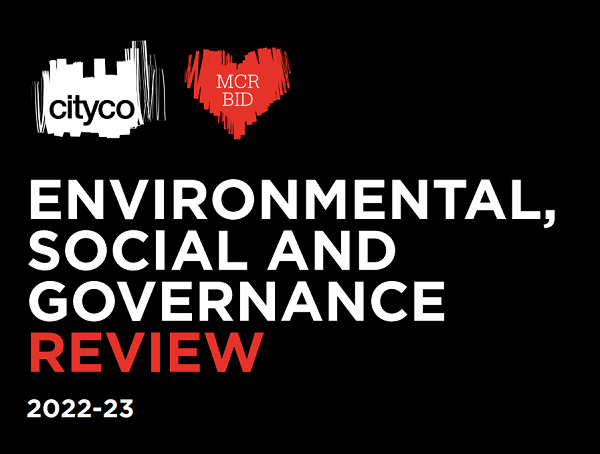 2022-23 Manchester BID 'Environment, Social & Governance' Review
Report Contents:
Introduction
Food & Hospitality
Case Studies
Health & Beauty
Case Studies
Fashion
Case Studies
Home & Lifestyle 
Case Studies
Jewellery
Case Studies
Banking: High Street & Investment
Case Studies
Other Sectors
And Next?