Major Road Works: Deansgate Area Business Consultation
1st Jun 2022
Briefing for Businesses via MCC/TfGM
Background
Manchester city centre is the fasting growing outside London, with a potential 100,000 more jobs and 50,000 more homes over the next 20 years.
As the city grows, Manchester authorities want to think about city centre streets differently:
Looking at new and better ways to improve use of our public spaces
Address challenges which the city faces and deliver on our cleaner air targets
Ensure the city centre's economic recovery from Covid-19
Protect the businesses and people that have contributed to the city's prosperity over the past decade
Aim for 90% of all morning peak trips to the city centre to be made on foot, by cycle or using public transport by 2040
Aim to improve safety and encourage people to travel across and around the city by walking and cycling.
The proposed 'City Centre Active Travel' scheme, paid for by the government's 'Active Travel Fund', aims to create an easier, safer and more attractive route for people to move between Piccadilly, Victoria and Deansgate stations, and to link into other walking and cycling routes.
It focuses on areas not already covered by other walking and cycling improvement schemes (along Deansgate, and in the Northern Quarter), including:
Deansgate north – Victoria Bridge Street to Blackfriars Street
Deansgate south – Quay Street to Whitworth Street Junction
Whitworth Street, Fairfield Street, and London Road
Aims and Objectives
The objectives overall are to deliver improved walking and cycling routes in the city centre.
Further to this, the improvements will also need to bring a level of improvement that contributes to a more pleasant space for everyone.
Also, these improvements to walking and cycling, while hopefully encouraging less motor vehicle use, should also not be detrimental to those who still need to use motor vehicles in the city centre (disabled 'blue-badge' holders, bus users etc).
Improvements need to take into consideration the needs of ALL users, so will need special attention to the requirements of disabled users of the facilities e.g. wide cycleways that allow the use of trikes and other specialist cycles, footways that are clear of excessive street furniture, access to crossing facilities that don't leave wheelchair users waiting on dropped kerb slopes and are set in a way that guide dogs recognise their positioning.
Aims:
To encourage more people to walk and cycle along this route
To link walking and cycling routes to each other
To connect city centre transport hubs
To reduce the risk of casualties from road traffic accidents
To deliver significant health, environmental and congestion benefits
To expand the area across the city centre where pedestrians have priority, and provide more space for walking
To encourage people to travel across and around the city by walking and cycling.
Maps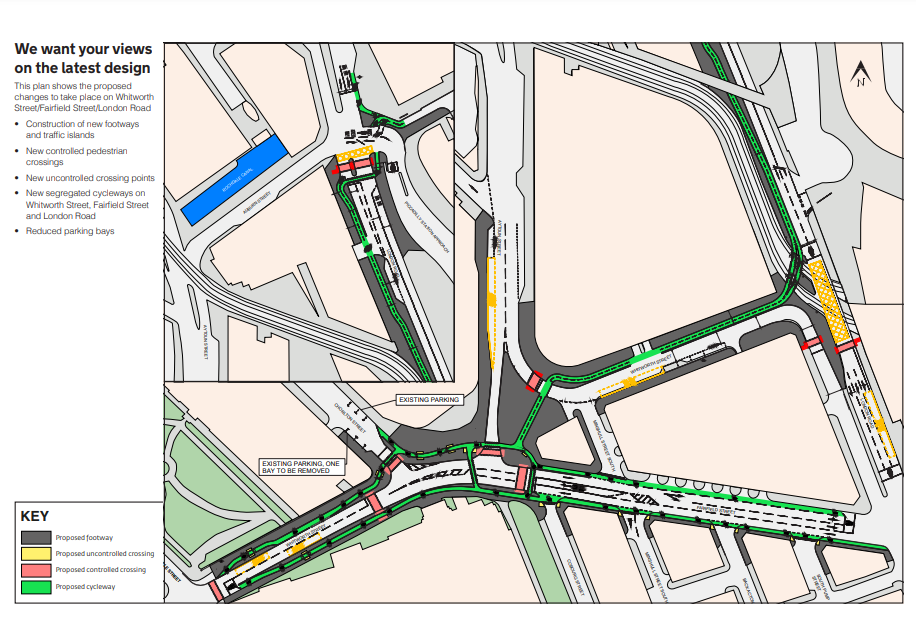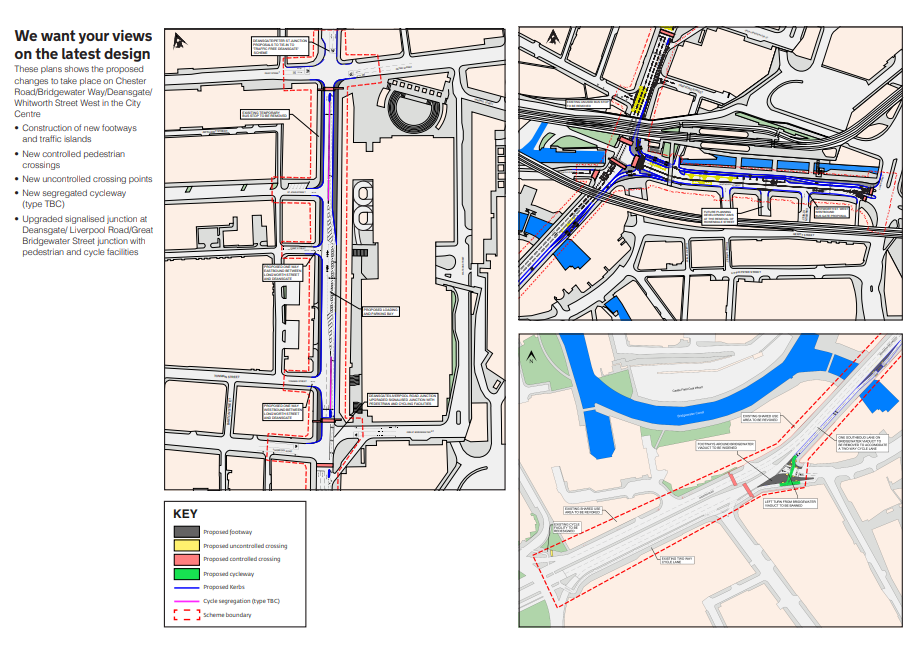 June 2022 Business Consultation
Phase 2 of the consultation aims to build on feedback received in phase 1. Based on feedback received, MCC highways department have designed plans that they are now presenting for the first time.
Hear from MCC/TfGM at CityCo's Online Business Engagement Briefings:
MANCHESTER BID + CITYCO MEMBERS + STAKEHOLDERS
Thursday 9th June
2-3pm, on Zoom
RSVP:
eventbrite.co.uk/e/business-engagement-session-major-works-to-chester-rd-and-deansgate-area
HOSPITALITY / NTE
Friday 10th June
11am-12pm, on Zoom
RSVP:
eventbrite.co.uk/e/business-engagement-session-major-works-to-chester-rd-and-deansgate-area-tickets