Coronavirus: Central Manchester Business Advice
4th Aug 2020
Updated 7 August 
CityCo and Manchester BID have been working throughout the Covid crisis to continue to support to our membership networks and the wider business community.
We are working in daily liaison with Manchester City Council, Transport for Greater Manchester, Greater Manchester Police, The Growth Company, Marketing Manchester, Manchester's homelessness charity network Street Support, and other statutory and professional bodies to help ensure a safe return to business.
We are still operating on reduced staffing. Do get in touch with the team as required:
Vaughan Allen, Chief Exec
Rob Dyson, Business Crime Reduction Partnership
Laura Dyson, Comms and Campaigns
Alex King, Operations and Partnerships
Annie McGoff, Finance
Phil Schulze, Business Improvement District (Manchester BID)
Andy McDermott, Business Improvement District (Manchester BID)
Gareth Worthington, Night Time Economy
August Local Lockdown: Manchester City Council Poster Download
5 August Manchester Covid Regulations
National policing regulations and enforcement protocols released:
5 August Manchester Covid Regulations: Policing Restrictions and Enforcement (PDF)
1 August New Government Lockdown Restrictions
gov.uk/guidance/north-west-of-england-local-restrictions-what-you-can-and-cannot-do 
In order to help prevent the spread of Coronavirus, you should not:
meet people you do not live with inside a private home or garden, except where you have formed a support bubble (or for other limited exemptions to be specified in law)
visit someone else's home or garden even if they live outside of the affected areas
socialise with people you do not live with in other indoor public venues – such as pubs, restaurants, cafes, shops, places of worship, community centres, leisure and entertainment venues, or visitor attractions. You may attend these venues with people you live with (or are in a support bubble with), but should avoid interaction with individuals or groups from other households. If you run such a business or organise events on their premises, you should take steps to ensure people do not interact with people they do not live with, in line with COVID-19 secure guidance
visit friends or family in care homes, other than in exceptional circumstances. Care homes should restrict visits to these circumstances
The police will be able to take action against those that break these rules, including asking people to disperse and issuing fixed penalty notices (starting at £100 – halving to £50 if paid in the first 14 days – and doubling for subsequent offences).
Eat Out To Help Out Scheme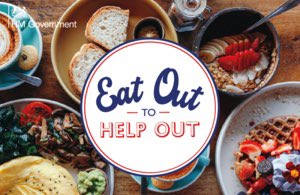 Many thanks to the hundreds of CityCo and Manchester BID venues that have signed up to the scheme, running through August to offer customers up to 50% OFF meals Mon-Weds. This is supported by a £5 parking deal via NCP: MancSaver. Register here.
Manchester Evening News list of Chains and all city centre participating venues.
Supporting Track and Trace
gov.uk/guidance/maintaining-records-of-staff-customers-and-visitors-to-support-nhs-test-and-trace
cityco.com/personal-data-retention-covid-19
Road Closures and Bollard Changes for Social Distancing
Road closures and footpath widening are in place across the city centre to assist with social distancing. Google Map:

cityco.com/road-closures/city-centre-road-changes-for-social-distancing/

Manchester City Council is also upgrading the rising bollard system which restrict vehicle access to roads in some parts of the city centre. There are 19 sites in total with one cluster around main retail areas including Market Street, St Ann's Square, Exchange Square and King Street, and a second cluster around Canal Street.
Travel Advice
Policing Status
5 August Manchester Covid Regulations: Police Enforcement protocols (PDF)
Greater Manchester Police are following a national 4 phase approach at this time:
Engage: officers may ask people out in public about their circumstances
Explain: officers may point out the risk people are taking, if not practicing social distancing
Encourage: officers may encourage people to act reasonably and responsibly
Enforce: as a last resort, officers may remove people to their home, and fine individuals if regulations are broken
More information gmp.police.uk
Welcome Back Campaign Assets
Manchester City Council has created a campaign with health and safety and friendly 'welcome back' messaging
The bright, positive campaign is running across the city's digital screens alongside poster sites, billboards, social media and web
Artwork versions include: "Thank you for wearing your Mask" "We Missed You" "Maintain Social Distance" "Look After Each Other"
Use the materials as you wish around stores, workplaces and via online channels
Download Poster Packs, Digital Screen Artwork and Social Media Toolkits on the web portal: welcomebackmanchester.com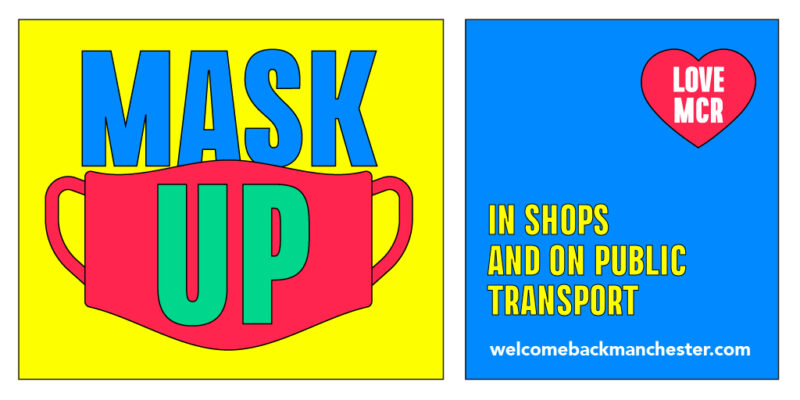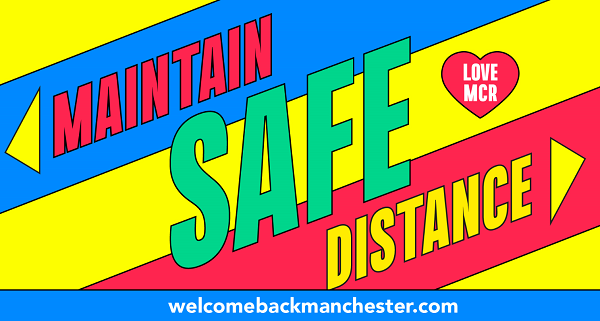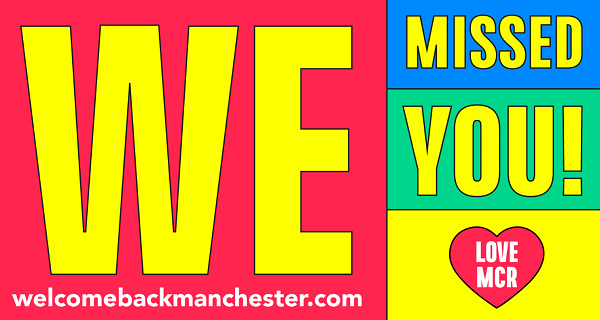 CityCo Zoom Business Briefings
During the March-July lockdown phase and retail reopenings we ran a whole series of Zoom Business Briefings with our city partners including Greater Manchester Police, Manchester City Council and Transport for Greater Manchester.
Video replays are available for some of the meetings via the calendar
As and when we might need to restart these briefings, invites will be circulated to our networks. To update company contact details at any time, please email info@cityco.com,