Manchester Reopening – Business Guidance
23rd Apr 2021
Updated 23 April 
As Manchester reopens this spring and summer, CityCo and Manchester BID are working with many partners to ensure a safe and welcoming return to business.
We continue to support to our membership networks and the wider business community, working in liaison with Manchester City Council, Transport for Greater Manchester, Greater Manchester Police, Marketing Manchester and other statutory and professional bodies.
We wish everyone lots of custom in the weeks to come.
WelcomeBackMCR Campaign
Feel free to use the city's Welcome Back creative to provide reassurance and a friendly welcome as the city reopens, again 😉
The bright, positive campaign is running across the city's digital screens alongside poster sites, billboards, social media and web.
ARTWORK ASSETS AT WELCOMEBACKMCR.COM
Travel and Transport: Communications Toolkit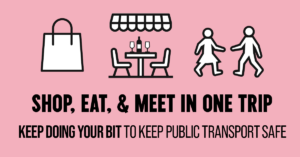 To help customers and staff travel in safely Transport for Greater Manchester would be grateful if businesses can help to us share the right advice and information:
Encourage employees and customers to plan ahead and, where possible, travel at quieter times to help make space on public transport for essential and shift workers w have no choice when to travel
Promote cycling and walking as much as possible for employees and customers, especially for shorter trips
Explain how to travel safely by public transport, on foot and bike or by taxi, private hire vehicle or car.
FACTSHEET FOR BUSINESSES: INC. TRAVEL MESSAGING, SOCIAL MEDIA CONTENT, POSTER DOWNLOADS
tfgm.com/doyourbit
tfgm.com/travel-planning-for-employers
City Centre Outdoor Hospitality Areas

Image C King Street Manchester
CityCo and Manchester BID have worked with businesses and City Council Licensing to scope, plan and set-up outdoor eating and drinking areas across the city centre.
Outdoor dining areas:
Blossom Street, Edge Street, Holbrook Street, Houldsworth Street, King Street, Little Lever Street, New Wakefield Street, Peter Street, Soap Street, Sackville Street, St Ann's Square, Stevenson Square, Tariff Street, Thomas Street, The Village, Wakefield Street
Street Drinking Guidance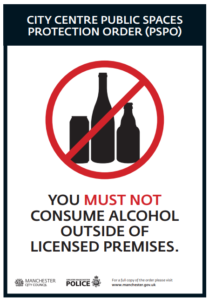 A reminder to business that a Public Space Protection Order is in operation across the city centre that prohibits drinking on the street, outside of licensed premises.
The police and City Council have created a Poster to display if relevant to your area of business.
Retail District Deep Cleaning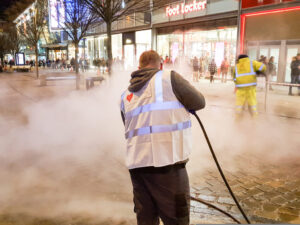 CityCo and Manchester BID partners Biffa and Ramora are cleaning the Business Improvement District central retail area.
Street furniture and bins are being sanitised with an anti-viral foam treatment, followed by a 100 degrees 'steam clean', that is a second defence to against any remaining virus.
Retail areas will be cleaned every 48 hours as we ease out of lockdown.
FOR ENQUIRIES EMAIL OPERATIONS@CITYCO.COM
Covid Marshals & City Hosts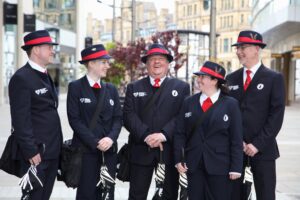 Manchester City Council's team of marshals are around town to assist with public and business enquiries.
ROLE OF COVID MARSHALS: BRIEF FOR BUSINESSES
Our own Manchester BID City Hosts are on hand too.
The Manchester Flower Show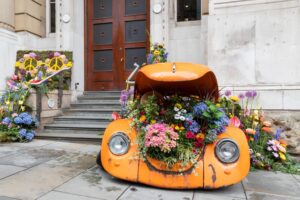 Manchester BID and CityCo are coordinating the city's first major reopening event from 29th May – 6th June.
To make The Manchester Flower Show's floral takeover a success, we would love to see as many businesses as possible take part.
GET INVOLVED AND LET US KNOW WHAT YOU'RE PLANNING
April 2021 ReStart Grant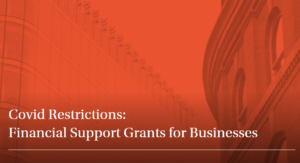 Grants of up to £6,000 for eligible non-essential retail businesses, and up to £18,000 for eligible hospitality and leisure businesses are now available.
The scheme is for businesses on the ratings list only and is a one-off grant.
20th April NOTE FROM COUNCIL FOR APPLICANTS: CURRENT DELAY TO PAYMENTS
Security Minded Communications Guidance
Why and how organisations should consider promoting protective security measures alongside communications related to COVID19:
12th April Reopening, CityCo Business Briefing: Replay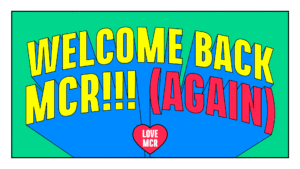 On 31st March we held a business briefing with guests from Manchester City Council, Transport for Greater Manchester and Greater Manchester Police.
The Zoom covered tactical plans for reopening of the city centre including cleansing, outdoor seating plans, Covid marshals, licensing, safety and security, services for vulnerable people, travel and transport planning.