Manchester Tier 3 Alert Level: Restrictions and Business Support 
24th Oct 2020
Manchester has been placed in the 'Very High' Covid Alert Level from 00:01am Friday 23 October.
CityCo/BID Zoom briefings for city centre businesses
Government Business Support
Open Businesses

The minimum hours required for employees to work has dropped from 33% to 20% and the employer contribution for non-worked hours has dropped from 1/3 to 5%
Employers will continue to receive the £1,000 Job Retention Bonus
Employers must have agreed the temporary working arrangement for shorter hours in writing with employees (or union)
The employee must work at least 20% of their usual hours and they can undertake training in their working hours whilst being claimed for
Employers will pay 5% of non-worked hours, capped at £125 per month, and NICs and automatic enrolment pension contributions in full as a contribution
Employers can top up employee's wages above the 5% contribution at their own discretion
The Government will contribute 61.67% of non-worked hours, capped at £1,541.75 per month
Employees who have previously been furloughed, will have their underlying usual pay and/or hours used to calculate usual wages, not the amount they were paid whilst on furlough
Employees cannot be made redundant or put on notice of redundancy during the period within which their employer is claiming the grant for that employee
For businesses that are unable to legally operate due to Covid-19 restrictions, the government will pay employees 67% of their wage, with the employer still contributing to pensions and National Insurance.
Closed Businesses
The government will cover 2/3 or around 67% of wages for employees of businesses that have been forced to close
This scheme will cover businesses that, as a result of restrictions set by one or more of the four governments in the UK, are legally required to close their premises
This includes premises restricted to delivery or collection only services from their premises.
Businesses required to close as a result of specific workplace outbreaks by local public health authorities are not eligible for this scheme.
Self Employment
gov.uk/guidance/claim-a-grant-through-the-coronavirus-covid-19-self-employment-income-support-scheme
Grants for Tier 3 Closed Businesses
Properties with a rateable value of £15,000 or under will receive grants of £667 per two weeks of closure (£1,334 per month)
Properties with a rateable value of over £15,000 and less than £51,000 will receive grants of £1,000 per two weeks of closure (£2,000 per month)
Properties with an rateable value of £51,000 or over will receive grants of £1500 per two weeks of closure (£3,000 per month).
More information and 'how to apply' links to follow as published on gov.uk/coronavirus/business-support
Manchester City Council Licensing
Council Hospitality Tier 3 Regs
Pubs and bars must close unless they operate as if they were a restaurant, which means serving substantial a 'table meal'.
Alcohol can only be served as part of such a meal. 
A "table meal" is:
A meal that you'd expect to serve as the main midday or main evening meal (or as a main course at either such meal)
A meal eaten by a person seated at a table (or at a counter/ or other structure functioning as a table where people are seated).
Preparations for Winter
Reapplying for your Pavement Licence
There are some changes to the information you will need to submit with your next Pavement Licence application. You may need to update your existing licence with new furniture to operate over the winter period, such  as coverings or heaters. There is no variation process and so you will need to apply for a new licence in order to include new furniture.
Furniture
As a reminder, under a Pavement Licence, the furniture that can be used is:
Counters or stalls for selling or serving food or drink;
Tables, counters or shelves on which food or drink can be placed;
Chairs, benches or other forms of seating; and
Umbrellas, barriers, heaters and other articles used in connection with the outdoor consumption of food or drink.
This furniture is required to be removable. MCC will be pragmatic when determining what is 'removable' but in principle this means it is not a permanent fixed structure, and is able to be moved easily, and stored away of an evening.
MCC will consider the viability of proposals involving the use of structure/coverings that would not be removable and stored away overnight but this would need to be done pre-application.
Please email premises.licensing@manchester.gov.uk with any proposal.
Documents to submit with your application
MCC will now require some more detail with your application than you may have originally submitted.
You will be required to submit a scale plan of your proposed licensed area, which shows:
The intended setup of the area including any proposed furniture, and the location of any heaters must be shown
The distance from the boundary of the licensed area to the building boundary
The width of the route left available on the highway for passage by pedestrians. You must also include and show any street furniture e.g. lampposts/bike racks, that are between the boundary of the licensed area and the kerb. In all cases, a minimum width of 1.8m clear passageway must be left for pedestrians and applications providing less than 1.8m will be rejected
You must submit images of any temporary structures or coverings you propose to use
Your application must state all the furniture types that you intend to use as your licence will be limited to this.
Fees and duration of licences
Pavement licences applications will continue to be free of charge
Pavement Licences granted will now normally be for a 6-month period.
If you have any questions, contact premises.licensing@manchester.gov.uk
Fire Safety for Outdoor Areas
Fire Safety guidance from Greater Manchester Fire Service for outdoor seating areas (document downloads)
Policing Strategy
Tier 3: College of Policing and National Police Chief's Council (NPCC) National Regulations
Government Tier 3
 

Restrictions

Manchester COVID Alert Level: Very High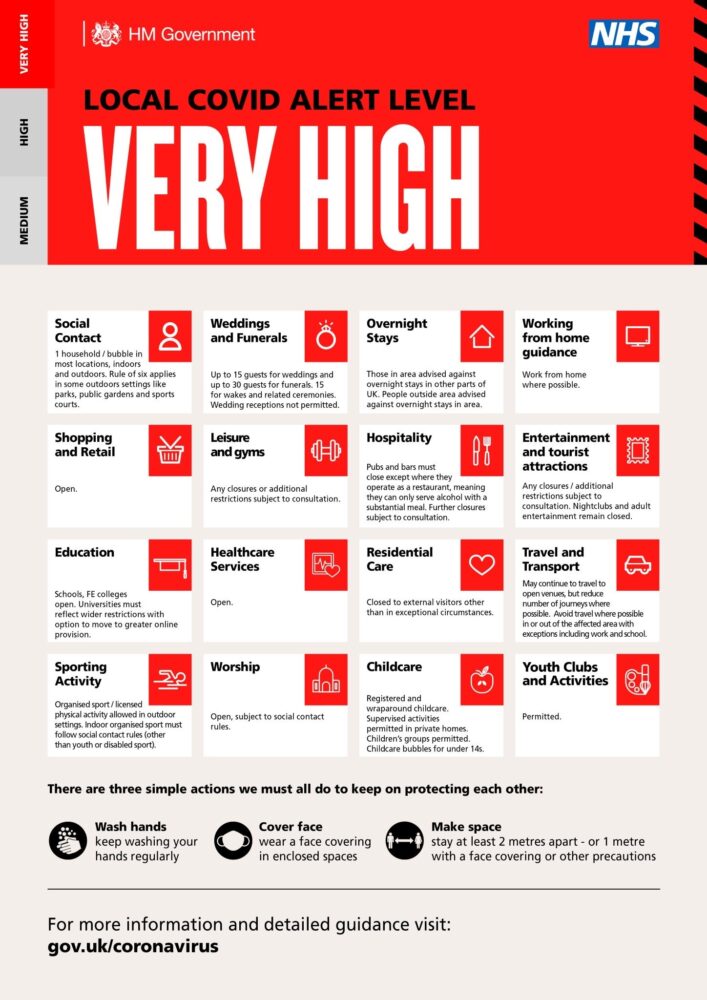 Outline:
you must not socialise with anybody you do not live with or have formed a support bubble with, in any indoor setting or in any private garden or at most outdoor hospitality venues and ticketed events
you must not socialise in a group of more than 6 in an outdoor public space such as a park or beach, the countryside, a public garden or a sports venue
pubs and bars must close; they can only remain open where they operate as if they were a restaurant, which means serving substantial meals, like a main lunchtime or evening meal, and they may only serve alcohol as part of such a meal
schools and universities remain open
places of worship remain open, but household mixing is not permitted
weddings and funerals can go ahead with restrictions on the number of attendees; however, wedding receptions are not allowed
exercise classes and organised sport can continue to take place outdoors; these will only be permitted indoors if it is possible for people to avoid mixing with people they do not live with or share a support bubble with; there are exceptions for supervised activities for under-18s, and disability sport
you should try to avoid travelling outside the very high alert level area you are in or entering a very high alert level area, other than for things like work, education or youth services, to meet caring responsibilities or if you are travelling through as part of a longer journey
you should avoid staying overnight in another part of the UK if you are resident in a very high alert level area, or avoid staying overnight in a very high alert level area if you are resident elsewhere
You must:
wear a face covering in those areas where this is mandated
You should continue to:
follow social distancing rules
work from home where you can effectively do so
travel to venues or amenities that are open, for work or to access education, but aim to reduce the number of journeys you make
This is the baseline in very high alert level areas.
Useful Links
Government
gov.uk/guidance/local-covid-alert-levels-what-you-need-to-know
gov.uk/coronavirus/business-support
gov.uk/government/publications/the-job-support-scheme/the-job-support-scheme
Health
Support Bubbles: what are they and who can be in yours?
businessgrowthhub.com/coronavirus/guidance/mental-health-and-wellbeing-resources-pack
Council Licensing