Manchester Salford Inner Relief Route – Major Works
15th Aug 2018
Major road improvement works on one of the busiest routes in and out of Manchester and Salford.
The work will last for 12 months from August 2018 and will have a major impact on journey times.
The work will improve capacity by up to 20% at six major junctions in and around Regent Road, reducing congestion and delays.
The junction of Dawson Street, Regent Road, Trinity Way and Water Street
The junction of Regent Road and Ordsall Lane (Salford)
The junction of Regent Road and Oldfield Road (Salford)
The Mancunian Way, A56, A5067 roundabout
The junction of Trinity Way and Hampson Street
The junction of Hampson Street, East Ordsall Lane and Middlewood Street
TfGM advise people to plan ahead to Re-Route, Re-Time, Re-Mode and Reduce journeys, especially during peak morning and evening commuter times.
Businesses are encouraged to promote flexible working, walking, cycling, public transport and car-sharing to employees where possible.
Regular analysis of how the works are impacting travel and businesses will be undertaken weekly by TfGM to alter specific messaging and travel advice.
Latest updates (from Wednesday 21 August)
Regent Road has been reduced from two lanes to one lane in each direction. Access for pedestrians and cyclists will be maintained throughout the works.
Chester Road/Mancunian Way roundabout: The approaches leading up to the roundabout have been reduced to one lane and the inner lane of the roundabout has also closed.
Middlewood Street will be closed from 28 August until November 2019
Hampson Street will be closed from 4 September until November 2019
During this time, the roundabout will be partially closed, however diversionary signage will be clearly displayed throughout.
Access to all businesses and properties will be maintained at all times and diversions will be put in place.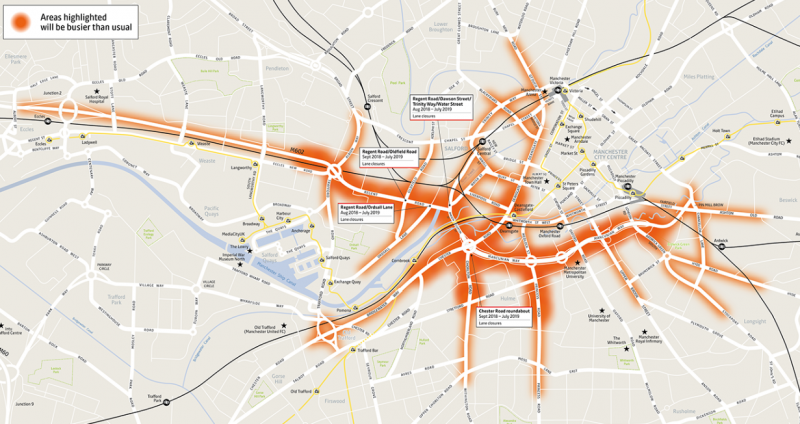 Useful Links
Impact Heat Map around Regent Road, Chester Road and Mancunian Way
Follow @OfficialTFGM on Twitter for advice and updates.