PRESS RELEASE: The Manchester Flower Show – What's On
17th May 2022
The Manchester Flower Show
Manchester city centre, various locations
2nd – 5th June 2022

themanchesterflowershow.com
FB/themanchesterflowershow
Twitter/MCRFlowerShow
Instagram/themanchesterflowershow

FIT FOR A QUEEN: MANCHESTER CITY CENTRE MARKS PLATINUM JUBILEE WITH THE MANCHESTER FLOWER SHOW
The popular annual floral takeover will return to the city at the start of next month with a Queen's Jubilee Floral Trail, stunning show gardens, a cocktail trail, live music and more
Manchester city centre shops and restaurants will be putting on a show fit for a Queen next month with the return of the city's prestigious annual flower festival, The Manchester Flower Show.
Taking place over the four days of the Queen's Platinum Jubilee Bank Holiday weekend (Thursday 2nd – Sunday 5th June 2022), city centre shops and businesses are transforming Manchester into a floral extravaganza featuring the most beautiful (and Instagrammable) gardens and flowers,
Headlining this year's event is The Queen's Jubilee Trail – 10 stunning professional displays located across the city centre inspired by the Queen's 70 years of service, the Crown Jewels, the Changing of the Guard, the Queen's love of horses and more.
The event, created by Manchester Business Improvement District on behalf of over 400 city centre retail and hospitality businesses, pays homage to the original Manchester Flower Show which began in 1955, but has been evolved to offer an urban take on its predecessor.
In addition to the Queen's Jubilee Trail, visitors can expect fun and frivolity as they make their way through the city centre with floral installations popping up where they may not always expect! The city's Exchange Square will be transformed into Flower Show Square in partnership with Selfridges Exchange Square, and will be home to the show's main stage featuring entertainment, talks and live music, alongside pop-up food & drink. Plus there's the Manchester Flower Show Cocktail Trail hosted by a selection of the city's best bars and restaurants, a Harvey Nichols x Manchester Gin Bar on New Cathedral Street and a flower and craft market on Market Street.
Jane Sharrocks, Manchester Business Improvement District Chair and General Manager of Selfridges Exchange Square said: "The Manchester Flower Show is yet another example of our retail and hospitality sectors coming together to help build back the city post-pandemic. It demonstrates  creativity, collaboration and resilience and we're incredibly grateful to all the artists, community groups, retailers and businesses who are playing their part to bring this beautiful event to our city to mark the Queen's Platinum Jubilee."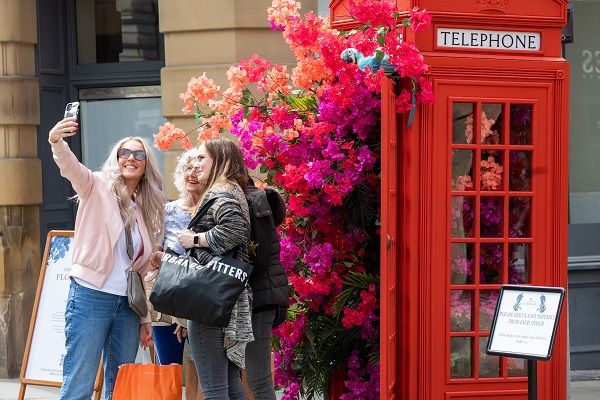 The Manchester Flower Show Queen's Jubilee Trail
visitmanchester.com/the-manchester-flower-show-queens-jubilee-trail
The Queen's Platinum Jubilee Urban Garden at St Ann's Square:  Created by Garden Designer, Ellie Edkins, The Queen's Platinum Jubilee Garden will be the star of the show at this year's floral festival! With seven aged oak posts representing the Queen's 70 years in service, cottage garden flowers and three native trees, visitors will want to explore every corner of this beautiful pop-up garden.
The Crown Jewels at Royal Exchange: One of the most beautiful flower displays you will see this summer, The Crown Jewels at Royal Exchange is an installation not to be missed! Created by Verdure Floral Design, visitors will be invited to sit on a royal throne surrounded by a profusion of fresh and dried flowers, where they can snap a photo and share on Instagram to be in with a chance of winning a £100 voucher from Verdure.
Horse Play at King Street: Celebrating the Queen's love of horses, Twig Twisters have created a truly one-off display! Capturing a horse in motion, this sculpture has been made entirely of twisted willow and carefully created by popular artist, Sarah Haynes. With flower-filled drinking troughs at its base, this display is a playful celebration of horse racing and show jumping.
Changing the Guard at St Ann's Square: Bringing London to the heart of Manchester, the Changing of the Guard will feature a Buckingham Palace inspired Guard's Hut, Trafalgar Square lions, and a very British show of red, white, and blue flowers, all designed by popular Northern Quarter florist, FROG Flowers.
The Ju-Bee-Lee Garden sponsored by Prestige Flowers on Upper King Street: Celebrating the Manchester Bee as well as the Platinum Jubilee, this un-bee-lieveable pop-up garden created by The Manchester Flower Show community team and sponsored by online delivery service, Prestige Flowers, will be filled with an array of purple flowers including lupins, delphiniums, and lavender. With benches for visitors to relax and hexagonal planters in the shape of beehives, this garden will also feature both young and old silver birch trees, in reference to the passing of time. Each tree will be permanently planted after the flower festival has taken place as part of the Jubilee Green Canopy Scheme, which has seen thousands of new trees go into the ground across the country.
Queen of Pop at New Cathedral Street:  Designed by Crafthouse Creations and inspired by Andy Warhol's 1960's pop portraits of Her Majesty, the Queen of Pop installation will allow visitors to step back in time via a 1960's Pop Art arch, where they will find planters and wheelbarrows overflowing with stunning summer flowers.
The Jubilee Kiosk at King Street: Did you know one of the Queen's first acts as she ascended the throne was to modernise the humble telephone box? Making the perfect backdrop for your Instagram grid, FROG Flowers has paid homage to the traditional red telephone box in this eye-catching display located on King Street.
The Commonwealth Tuk-Tuk on New Cathedral Street: Paying tribute to all who name the Queen their head of state, this customised, retro tuk-tuk created by La Beau Fleurs and Birdie will be adorned with blue and purple flowers grown in Cheshire, making a nod to the Queen's favourite colour (blue!) and the colour of nobility (purple!).
The Crown at Manchester Arndale: Designed by Decordia, visitors can discover a huge crown-shaped planter, filled with a colourful mix of tropical palms and jewel-like English flowers.
Queen Bee at Manchester Arndale: Located in the upper mall, this clever display has been created by Wild in Art by upcycling a bee sculpture from the previous Wild in Art Bee Trail across the city. Covered in artificial flowers, this installation will feature a beautiful, real flower crown designed by FROG Flowers.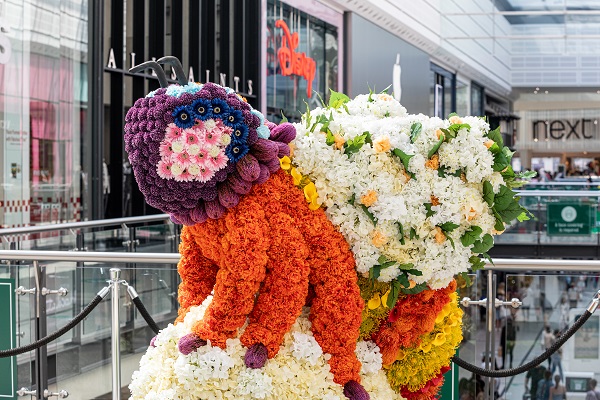 Festival Zone Displays
visitmanchester.com/the-manchester-flower-show-festival-zone-displays
The Climate Resilient Garden, King Street
Caroline Dowsett, 11 York St
Flower Throne, King Street
Goodbye Porpoise Spit!, King Street
In Our Nature, St Ann's Square
Manchester International Fashion Festival, Manchester Arndale
Felix et Gloriosus, King Street
English Garden, The Pinnacle
Junko's Ikebana Sanctuary, Exchange Street
Joyful Jubilee, HSBC, St Ann's Square
Kimpton Beehive, St. Ann's Square
Give Us Peace, Market Street, Near M&S
National Trust, Castlefield Viaduct promo
The Queen's Gambit, New Cathedral Street
The Printworks
Stock Exchange Hotel
The Queens Tea Party, The Corn Exchange
Seedling to Bouquet, King Street
Food and Drink
visitmanchester.com/the-manchester-flower-show/food-and-drink
The Manchester Flower Show Cocktail Trail at various locations across the city: Visitors can enjoy a tipple with floral inspired cocktails as part of The Manchester Flower Show Cocktail Trail at some of the city's best bars and restaurants including Franco Manca, Grand Pacific, Kala Bistro, Miller & Carter, Starbucks, Tast Catala and Urban Playground. To find out more click here.
Flower Show Square in partnership with Selfridges at Exchange Square: Selfridges Exchange Square and Manchester Flower Show are collaborating to bring botanical beauty to life with a takeover of Exchange Square. Flower Show Square will host the event's main stage, featuring live music and cultural talks, in addition to an outdoor bar area and delicious food offerings from Maray and Hello Oriental, with a percentage of sales supporting local charity, Eat Well MCR.
Harvey Nichols x Manchester Gin Bar on New Cathedral Street: Celebrations will be in full bloom with Harvey Nichols and Manchester Gin. Discover botanically inspired cocktails at the Manchester Gin Bar, located on New Cathedral Street. Join them for a specially curated menu of cocktails featuring stunning summer flavours from Manchester Gin's unique distillations, and special drinks from their other spirits ranges: One-Eyed Rebel Spiced Rum, Manchester Spirit Vodka, and Forty-Five Vermouth.
A Taste of South America at Kuoni: Bringing the sights and sounds of South America to Kuoni on King Street, enjoy a themed bar and floral display by FROG Flowers while savouring a tropical mocktail to the beat of a live Latin drum band.
Flower Show Fringe
visitmanchester.com/the-manchester-flower-show-fringe-displays
Additional venues and areas across the city centre will also come into bloom as part of The Manchester Flower Show Fringe.
Including Printworks, Stock Exchange Hotel, Albert Schloss, Bruntwood, Manchester One, Circle Square, Dakota Hotels, First Street, Great Northern Warehouse, Hyatt Manchester, One Piccadilly Gardens, Manchester Art Gallery, MeadowSide, NOMA, The Refuge, Science & Industry Museum and The Oast House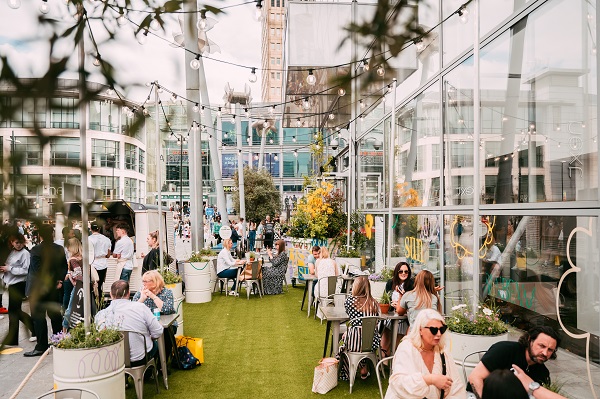 For full listings information click here
For more media information, please contact Anoushka Done or Hannah Curry at ECHO on 07732 846650 or email anoushka@echo-pr.co.uk / hannah@echo-pr.co.uk.
Notes to Editors
The Manchester Flower Show
The Manchester Flower Show has historic roots in the city, launching in 1955 and running for nearly 50 years. Following a 15 year hiatus, it returned as part of the city's King Street Festival in 2018, and then in 2021 firmly established itself as a standalone event.
Manchester Business Improvement District (Manchester BID)
Manchester Business District is a consortium of 400 leading retail and hospitality brands in the city centre. The BID is managed by The City Centre Management Company, CityCo. Businesses voted-in the BID in 2013, and pay a levy to help fund City Hosts (tourist information officers), customer service, promotional and operational projects that support the vibrancy of the city centre. £6million is being invested in the second term of the BID (2018-23). The BID will go to ballot for a third term in December 2022.

Over the past 24 months the BID has supported businesses around lockdown, reopening guidance, legislation and licensing advice, outdoor seating permits, security, policing, Council and transport briefings, tourism campaigns, and government lobbying on a regional and national level for retail and hospitality industries.

The BID's annual event programme includes Halloween in the City and The Manchester Flower Show, alongside collaborating with partners on other major events including Chinese New Year, Pride and student shopping nights in partnership with Manchester Arndale.

More information can be found at manchesterbid.com