TfGM: Black Friday & Festive Period Travel Advice
24th Nov 2022
Via Transport for Greater Manchester: Public transport and active travel the best way to travel as festive trips increase
Increase in trips expected this weekend
Frequent services and value for money tickets available across bus and tram services
Passengers encouraged to avoid train journeys due to planned industrial action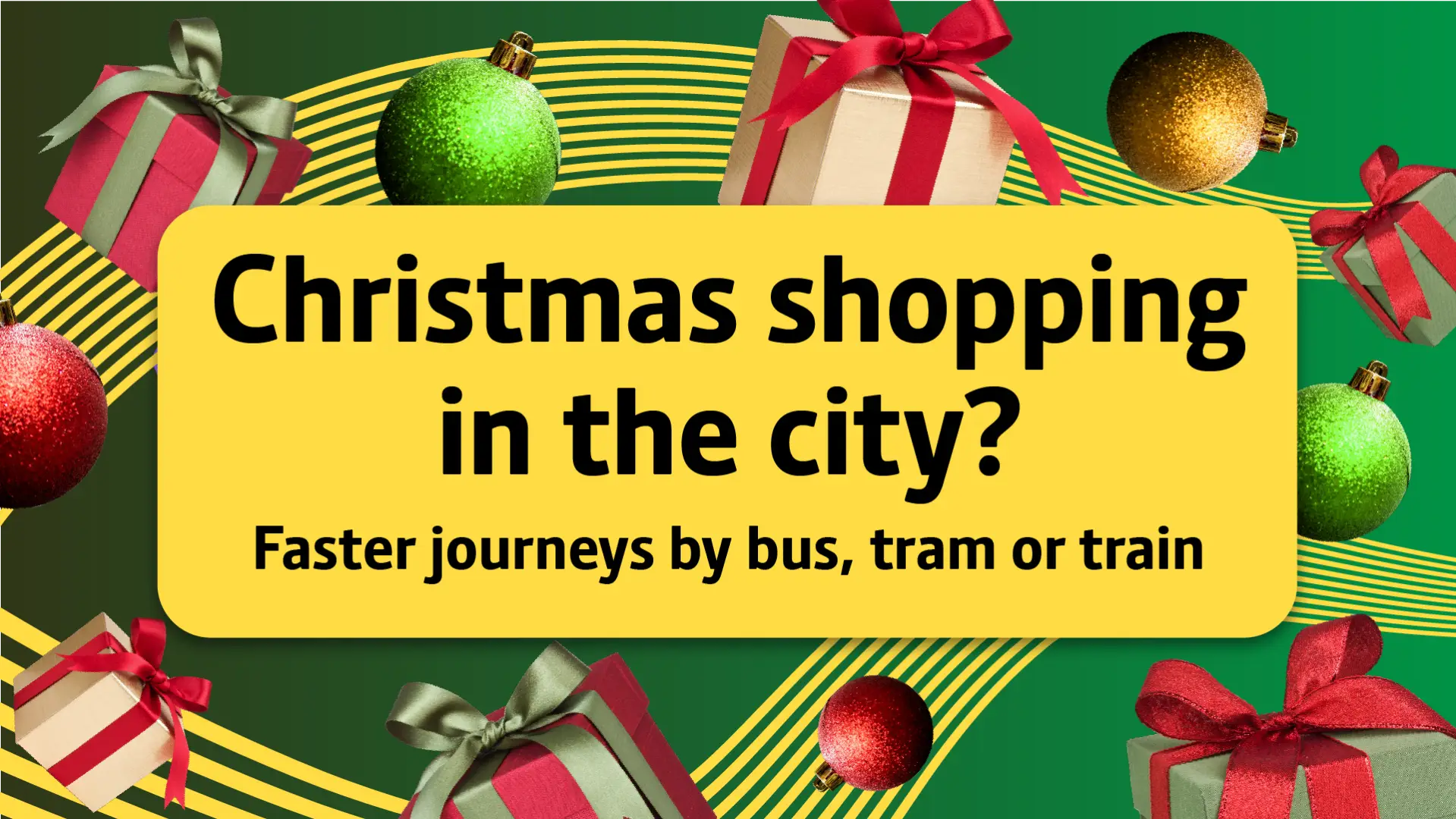 Via Transport for Greater Manchester: Public transport and active travel the best way to travel as festive trips increase
Increase in trips expected this weekend
Frequent services and value for money tickets available across bus and tram services
Passengers encouraged to avoid train journeys due to planned industrial action
Transport for Greater Manchester, Manchester City Council, Greater Manchester Police and other partners are working together to try to ensure that the biggest retail weekend of the year and the Christmas run-up goes as smoothly as possible in city centre Manchester.
City Centre Congestion Measures
Greater Manchester's Urban Traffic Control staff will be monitoring the city centre network as normal throughout the weekends on the lead up to Christmas, and will be able to make live changes to the signals in order to ease congestion where it occurs.
Transport for Greater Manchester's 24 hour Control Centre will also be monitoring the city centre, providing real time interventions and information on congestion and incidents throughout the city and wider network.
In addition, TFGM's Urban Traffic Control Engineers will be providing enhanced support and will be able to respond to congestion by making live changes and adjustments to signal timings where possible.
Further measures being implemented include the placement of temporary signs on the approaches to key areas, including mobile Variable Message Signs beside the road, to provide advanced notification of closures.
Some other steps being taken include:

Deansgate:  
•    In order to improve matters since last year, Salford City Council have implemented a loading bay on Blackfriars Street that allows vehicles to move out of the main flow of traffic when dropping off, picking up or loading on this section of the road
•    Temporary signs are being installed on Chapel Street advising that Deansgate is closed to through traffic from Blackfriars Street onwards
•    Mobile Variable Message Signs are being deployed on Greengate Square, and Manchester partners are working with Salford City Council to ensure a joined-up approach to managing congestion
•    TfGM are reactivating messages about the Deansgate closure on their Traffic Information signs
•    Variable Message Signs are on Great Ducie St notifying drivers of route changes and problem areas.
Shudehill 
•    Urban Traffic Control have implemented peak hour signals operation to help ease the congestion.
Manchester Arndale 
•    Motorists using the Arndale car park can pre-book parking, which guarantees a space and helps to spread journey times. Avoid peak times if possible, which includes Saturday between 4.30pm and 7.30pm
AO Arena 
•    The Arena is sending Travel Advice messages to those attending events in the lead up to Christmas.

Piccadilly Gardens 
•    Piccadilly Gardens has Metrolink works taking place this week, with a bus replacement service in operation. A new bus company is providing this and they have a reactive team to re-route buses away from congested areas.
Public Travel Messaging
People are encouraged to use public transport where possible.
Metrolink Tram
There are flexible ticketing options in place including great value family tickets offering travel for 1-3 children and 1 or 2 adults from as little as £3.60.
Buses
Passengers can benefit from new lower fares, meaning they will not pay more than £2 for a single trip (£1 for a child) or £5 to travel on any bus in Greater Manchester all day (£2.50 for a child).
Key services into the city have the added benefit of priority lanes that beat the traffic.
Park & Ride
There are many free park and ride sites.
Car Travel
Those driving are encouraged to take steps to make their journey smoother and potentially quicker:
Drive at a quieter time – this means avoiding driving to and around the city after 12pm on Fridays, Saturdays and Sundays and between 3pm and 7pm during the week.
Know where road congestion may be – data shows that journeys along the Mancunian Way typically have higher journey times during the week, and journeys along the northern section of the Inner Ring Road (Great Ancoats Street) have higher journey times at the weekend.
Take a different route – if you need to drive across the city at the weekend, it may be quicker to use Alan Turing Way/Mancunian Way.
Park on the same side of the city as your route if you can – driving across the city can add additional time to your journey, so if it's an option for you, park in a car park closest to your route out of the city centre.
Check for quicker routes before every car journey on Google, Waze and other Apps. Use TfGM's journey planner.
Black Friday
Last year, the week following Black Friday saw an 11% increase in peak journey times and by choosing public transport or active travel, people can help reduce congestion and avoid being caught in traffic.
Between Friday (26 November 2021) and Sunday (28 November 2021), the busiest time was late afternoon, between 3pm and 7pm, as day visitors started to leave and those coming to enjoy the night-time economy started heading in.
Industrial Action
Planned industrial action on the rail networks on Saturday (26 November) means people should also avoid travelling by train unless absolutely necessary.
Other rail strikes are expected across the festive period:
Sunday 11 December (RMT Union affecting Avanti West Coast)
Monday 12 December (RMT Union affecting Avanti West Coast)
Tuesday 13 December 2022 (RMT Union)
Wednesday 14 December 2022 (RMT Union)
Friday 16 December 2022 (RMT Union)
Saturday 17 December 2022 (RMT Union)
Tuesday 3 January 2023 (RMT Union)
Wednesday 4 January 2023 (RMT Union)
Friday 6 January 2023 (RMT Union)
Saturday 7 January 2023 (RMT Union)